Non-woven flaps combine deburring, blending and finishing into one step for greater efficiency
Constructed for long life, flexibility, heat-resistance and load-resistance
Excellent choice for aluminum, steel and titanium substrates
Overlapping flaps increase durability and enhance cut rate
Open web responds to surface irregularities and minimizes gouging of the part
Phenolic resin plate provides cushion effect for optimal blending and dampens vibration, reducing operator fatigue and tool wear
Made with aluminum oxide for fast cut rate and long life
Suitable for a variety of substrates, our Standard Abrasives™ Surface Conditioning Flap Disc effectively blends, deburrs and finishes in one step. It can also be used for light grinding. The overlapping flaps provide several layers of abrasives for increased durability and enhanced cut rate. The versatility of our Surface Conditioning Flap Disc makes it a handy standby in any workshop.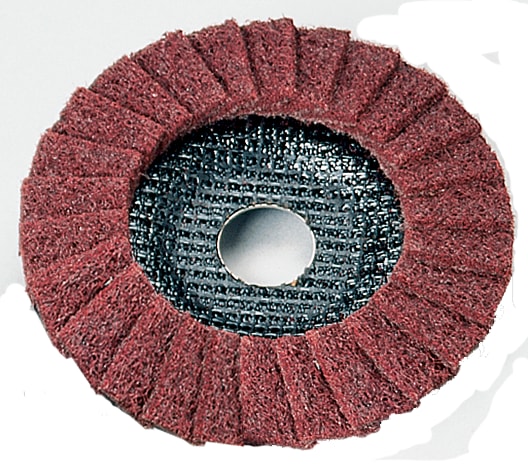 Surface Conditioning products have a woven fabric (scrim) embedded in the nylon structure to provide additional strength and durability for edge work
Durable and Heat-Resistant
Ideal for light deburring and blending applications where final finish is important, the Standard Abrasives™ Surface Conditioning Flap Disc delivers a fast cut and consistent finish in a single step. The non-woven nylon material is both durable and load-resistant, making this an especially long-lasting disc. The heat resistant open web makes this an excellent choice for use on aluminum, stainless steel, and titanium.

Recommended Applications
This non-woven aluminum oxide product offers an excellent solution for deburring, edge breaking, blending, cleaning, finishing, and polishing after traditional grinding is done with a Resin Fiber or Flap Disc. Use it for deburring milled surfaces and edges, preparing for anodizing, blending weld seams, removing flash and parting lines, and removing scratches or weld discoloration.

Engineered for Single-Step Efficiency and Extended Utility
Flap discs are three-dimensional discs with overlapping layers of non-woven, scrim-reinforced flaps that fan out from a central hub. The overlapping layers continually expose fresh abrasive mineral for a fast cut, while the cushioning of the flaps creates a consistent, blended finish. The one-step alternative to coated discs, surface conditioning flap discs deburr and finish in a single step, making them a time and cost-saving solution in many typical applications. And, because their overlapping construction allows more abrasive material to be loaded onto the cutting surface, they far outlast typical discs. Flap discs have the flexibility to easily follow curves and contours while delivering less gouging and enhancing operator comfort.

Using a Flap Disc
Flap discs are used on a right angle grinder. Flap discs with a 7/8" center hole can be secured onto a right angle sander with a compatible disc retainer nut (sold separately). Flap discs with a 5/8-11 internal thread are designed to be mounted directly to tools with 5/8-11 EXT threaded shafts.

Our Standard Abrasives™ Surface Conditioning Flap Disc (PDF, 2.9 Mb) is designed with a Type 29 conical profile. Flaps are angled to provide more aggressive cutting action, making this profile ideal for stock removal and faster results on edge work, flats and contours.

Quality Standard Abrasives™ Solutions for Industrial Applications
The Standard Abrasives brand has supplied quality abrasives to the metalworking industry for over 50 years. Customers rely on our broad offering of high performance products including coated, bonded, and non-woven abrasive lines.