Scotch-Brite™ Clean and Strip Disc D2 aggressively cleans welds and removes paint, rust, and coatings without profiling or gouging the metal beneath. Extra coarse silicon carbide non-woven disc cuts fast, conforms to contours and leaves a fine finish.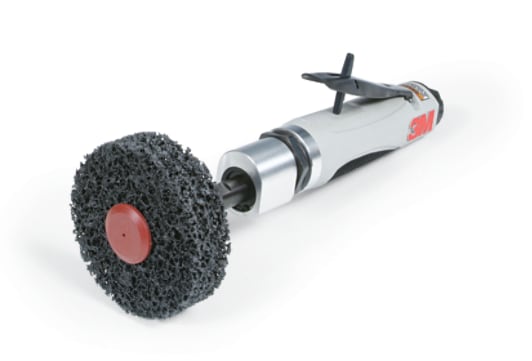 3M Die Grinder 20240 with Scotch-Brite™ Clean & Strip Disc
Take Off the Paint, Rust and Corrosion, Not the Metal
Our aggressive, non-woven Scotch-Brite™ Clean and Strip Disc D2 is an extremely durable open web of fiber, resin and silicon carbide. Two discs mounted on a common 1/4-inch shaft to fit portable tools provide greater rigidity for maintenance and cleaning tasks. The greater edge surface is conformable, allowing it to clean welds, remove rust and strip paint in hard to get at creases and dents without removing metal.
Abrasive grains are bonded to and uniformly dispersed throughout a web of flexible nylon fiber. The "open weave" construction provides a continuous, fresh supply of cutting grain as fibers wear away during use, providing a consistent finish. Gaps in the web allow swarf to escape, so debris does not clog the mineral. The flexible "spring-like" design conforms to contours and corners and so reduces the risk of undercutting or gouging the work piece. The open web construction and aggressive abrasive properties provide a smooth running wheel that resists loading when removing soft coatings.
Silicon Carbide for Sharp Cut
We chose silicon carbide abrasive, which is a synthetic mineral that is very sharp and commonly used for low-pressure applications such as paint prep. While it breaks down faster than aluminum oxide, it produces a superior finish.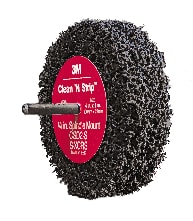 Scotch-Brite™ Abrasives Deliver the Quality You Need
Our Scotch-Brite™ industrial abrasives are a unique surface conditioning product with abrasives incorporated into non-woven nylon or other synthetic fibers. Originally developed by 3M scientists in the 1930s to make decorative ribbon, in the '50s 3M found a way to "marry" the fibrous open web with abrasive grain.
The spring-like nature of the resulting nonwoven abrasive is more responsive to contours and removes unwanted burrs, soils, and contaminants while maintaining the geometry of the workpiece. Especially effective for surface conditioning, the result is product ready to finish. Subsequent steps may be unnecessary. Rework is reduced, productivity goes up. From aesthetic finishing to weld blending, deburring, and more, Scotch-Brite abrasives work fast and deliver consistent results, part after part.