Flexible and conformable for weld burn removal, light deburring, blending, satin finishing and rust removal while leaving a consistent finish
Aluminum Oxide mineral in medium grade coarseness works efficiently on weld burns, small burrs, and rust
Springy fibers conform to irregular surfaces with uniform results
Load resistant open web construction provides extended use
Superior durability and cut make the disc long-lasting
Secure threaded attachment makes disc changes fast and easy
The Scotch-Brite™ Roloc™ HS Blend and Finish Disc aggressively tackles weld burns and refinement, light deburring and rust removal – leaving a consistent satin finish on the workpiece. The result is a beautifully blended, burr-free, paint friendly finish. The Roloc quick-change attachment button provides secure attachment and easy disc changes for greater efficiency in the workshop.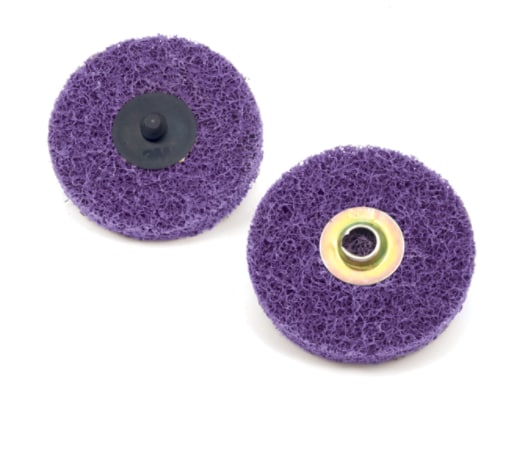 The Convenience of 3M™ Roloc™
For added productivity, 3M™ Roloc™ products offer easy changeouts between steps on portable tools. 3M™ Roloc™ TR quick change discs are smaller discs that have a plastic threaded button or screw designed to easily and quickly screw onto a 3M™ Roloc™ TR Disc Pad (sold separately) so that operators can conveniently change discs with a simple twist-off, twist-on motion. 3M Roloc discs are also available with a TSM metal button. The 3M Roloc system provides a secure attachment even for heavy-duty applications, and the variety of available 3M Roloc discs allows swapping from one application to the next in seconds.
The Scotch-Brite™ Advantage
Scotch-Brite™ industrial abrasives are unique surface conditioning products with abrasives incorporated into non-woven nylon or synthetic fibers. Combining abrasives with the fibers creates an abrasive system that delivers consistent results for the life of the product. The open-web material runs cool and is load resistant, which keeps the abrasive minerals cutting at high performance by limiting clogging of the fibers. Fibers in the web continually break down with use to reveal fresh mineral for exceptional consistency, superior cut performance, and extremely long service life. From aesthetic finishing to weld blending, deburring, and more,
Scotch-Brite products
(PDF, 94 Kb) work fast and deliver consistent results, part after part.