High edge durability and flexibility
Designed for blending, coating removal, finishing, and light deburring
Aluminum Oxide on RC material provides good initial and extended cut rate
Best material for general use and average pressure usage
Most efficient on flat surfaces made of composites or soft metals
Available with Hook and Loop attachment
Our Standard Abrasives™ Surface Conditioning RC Disc combines edge durability and flexibility with high initial and extended cut rate to create a great all-around disc pad for deburring, blending, cleaning and finishing of composites or other soft metals.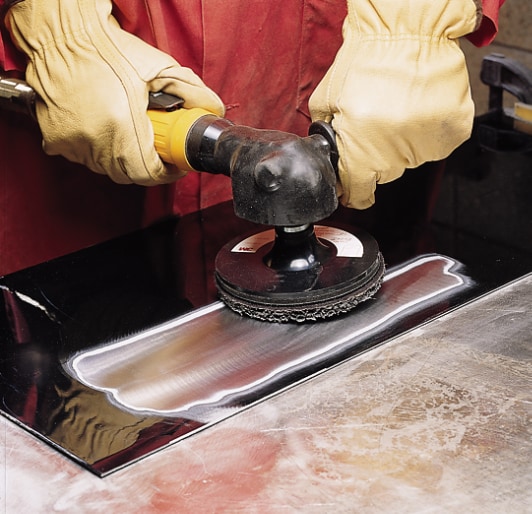 Use with right angle tool
Tough Woven Fabric
Our Standard Abrasives™ Surface Conditioning Discs provide a more compact structure of non-woven fibers than Buff & Blend products. Our RC disc has a woven fabric (scrim) embedded in the nylon structure to provide additional strength and durability. This helps extend the life of the disc and allows for extended use on ferrous materials where final finishing is important. This material is great for general use, delivering a solid mix of durability, flexibility, and cut rate.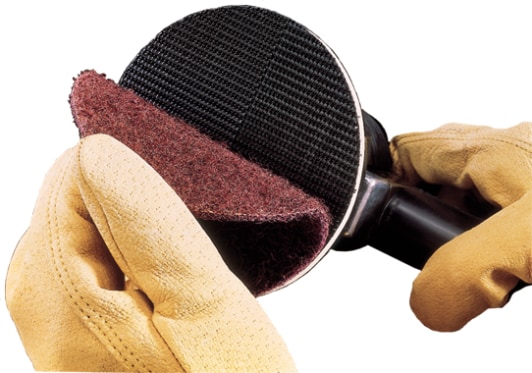 Hook and loop attachment system provides fast disc change-out for multi-step finishing processes
Mixed Materials
Our Standard Abrasives™ Surface Conditioning RC Discs are made of a tough, but flexible nylon mesh that fits any contoured surface. This mesh is also laced with aluminum oxide abrasive. Aluminum oxide discs are a good match for operators who desire an all-purpose versatility and economy. The mineral cuts fast while blending and deburring and should be used for applications on ferrous metals and composites. Aluminum oxide discs feature a premium grain with higher fracture strength, meaning the mineral will fragment and renew more readily. They are available in grades ranging from Very Fine to Extra Coarse.
Strong Backing for Better Performance
For the best results, it is recommended that a Standard Abrasives™ brand holder pad be used. Tests have shown that surface conditioning discs, when used in conjunction with a Standard Abrasives holder pad, have a greater durability and performance rate. These pads also assure that pressure is applied evenly all the way to the edge of the disc.
Surface Conditioning Material
FE
GP
RC
XD
Product Applications
Deburr: Remove burrs, weld spatter,
die cast flash and parting lines
•
•
•
•
Blend: Blend mill marks, tool marks,
mismatches, scratch patterns
•
•
•
•
Clean: Remove corrosion, paint, coatings,
gaskets, adhesives, scale and rust
•
•
Finish: Cosmetic graining, polishing welds,
reduce roughness, condition grind lines
•
•
Materials
Ferrous
•
•
•
•
Non-Ferrous
•
•
•
Aluminum
•
High Nickel/Chrome Alloys
•
•
•
Stainless Steel
•
•
•
Composites
•
•
Performance
Durability
Good
Best
Better
Best
Contact Force Required
Medium
Low
Medium
Heavy
Initial Rate of Cut
Best
Better
Good
Best
Flexibility
Medium
Most
Medium
Least
Grades
Extra Coarse
Dark Brown
—
—
—
Coarse (Approximately 60 Grit)
Brown
Dark Brown
Brown
Brown
Medium (Approximately 80 - 120 Grit)
Maroon
Dark Maroon
Maroon
Maroon
Very Fine (Approximately 180 - 240 Grit)
Blue
Dark Blue
Blue
—