Stiff resin bond supports outstanding cut and edge durability
Designed for blending and deburring on ferrous and non-ferrous metals, stainless steel, and high nickel/chrome alloys
Aluminum oxide on XD material provides high initial and extended cut rate on flats and edges
Best choice on ferrous materials when high contact pressure and stock removal are required
Open web responds to surface irregularities and minimizes gouging of the part
Non-woven construction provides long life, flexibility and heat-resistance
Easy fastening and swapping of quick change discs enhances tool efficiency and worker productivity
Available in brown, coarse-grade discs and maroon, medium-grade discs
The Standard Abrasives™ Quick Change Surface Conditioning XD Disc features our strongest, most durable surface conditioning material for aggressive applications. Prepping for final finishes and coatings becomes an efficient one-step routine with an XD disc. A reliable choice for edgework, some of its best uses include deburring and blending, while leaving a professional finish.
Deburring: removing large and micro burrs, edge radiusing, removing die cast flashings
Blending: removing mill marks, tool marks and mismatches, reducing uneven edges between adjoining surfaces, reorienting surface scratch patterns, creating a smooth transition from one surface profile to another
Finishing: cosmetic graining, polishing welds, reducing roughness, conditioning grind lines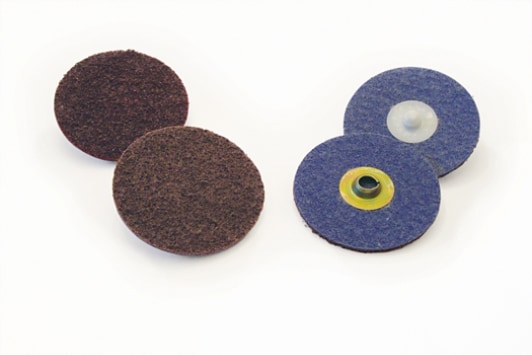 Stiff resin bond supports outstanding cut and edge durability
Quick Change Discs Boost Productivity
Quick change discs allow tool-free swap outs, maintain secure attachment at high speeds, and save operators time when switching discs between grades or applications. Easy fastening and swapping of discs enhances tool efficiency and worker productivity. The TP system features a snap-on/snap-off nylon fastening hub. TR discs have a nylon threaded male hub that easily threads onto TR type holder pads with a turn of the wrist, and the TS system has a metal hub that fastens to its holder pad with a simple twist.

Standard Abrasives™ Quick Change XD Discs are available with TP, TR and TS attachments in disc diameters up to 4". Discs with 4-1/2" to 7" diameters have a TS 5/8-11 threaded hub that easily mounts to a TS 5/8-11 holder pad. We recommend using our discs together with a Standard Abrasives™ Quick Change Holder Pad to ensure optimal disc performance and to ensure that pressure is applied evenly all the way to the edge of the disc.

Dense Material, Efficient Surface Conditioning
Surface conditioning material combines non-woven nylon fibers and aluminum oxide mineral using a resin bond to create an open web. Its resin bond tolerates heat and enhances overall abrasive durability. Moreover, gaps between the non-woven fibers allow swarf and debris to escape, prolonging abrasive service life.

Overall, surface conditioning products provide a more compact structure of non-woven fibers than Buff & Blend products. Surface Conditioning products have a woven polyester fabric (scrim) embedded in the nylon structure to provide additional strength and durability for edge work, deburring and efficient blending of all metal types. They can be washed and re-used, and may be used with lubricants.

Learn more about Standard Abrasives™ Surface Conditioning (PDF, 2.94 Mb)

Quality Standard Abrasives™ Solutions for Industrial Applications
The Standard Abrasives brand has supplied quality abrasives to the metalworking industry for over 50 years. Customers rely on our broad offering of high performance products including coated, bonded, and non-woven abrasive lines.