GREAT FOR LOW-MEDIUM PRESSURE: Built for consistency in blending, cleaning, deburring, finishing, grinding, polishing, radiusing, refining and surface preparation
CONFORMABLE NONWOVEN WEB: Springy nonwoven fibers resist loading and conform to irregular or contoured surfaces
WORKS ON A RANGE OF METALS: Great for use on aluminum, mild steel, nickel alloy, stainless steel and titanium
QUICK AND EASY ATTACHMENT: Convenient 3M™ Roloc™ attachment system allows for fast disc changes
CHOOSE YOUR MINERAL: Super Fine grade is powered by super-sharp silicon carbide that excels in low-pressure and fine finishing applications, while all other grades feature harder and more durable aluminum oxide
AVAILABLE IN A RANGE OF GRADES: Choose from Super Fine (SFN), Very Fine (VFN), Medium (MED) and Coarse (CRS) to fit your application needs
The Scotch-Brite™ Roloc™ Surface Conditioning Disc combines our durable, non-woven disc with the efficient 3M™ Roloc™ quick-change attachment system for an effective disc that cleans, finishes, blends, and deburrs. Our non-woven fiber construction conforms well to help preserve irregular or contoured surfaces and the Roloc™ backing supports the disc for aggressive cutting.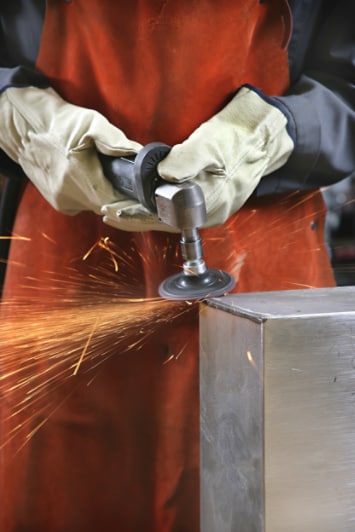 Ideal for Blending, Deubrring and Finishing
The open-web fiber runs cool and resists loading while the abrasives provide a high cut-rate to give you consistent finishing. The 3M™ Roloc™ attachment system offers quick and easy disc change-out, making the Scotch-Brite™ Roloc™ Surface Conditioning Disc ideal for a range of tasks including blending, deburring, and finishing.
Available in Silicon Carbide or Aluminum Oxide Mineral
We manufacture the Scotch-Brite™ Roloc™ SC Surface Conditioning Disc with a choice of silicon carbide or aluminum oxide abrasive mineral. Silicon carbide is a synthetic mineral that is very sharp and commonly used for low-pressure applications such as paint prep and finishing. Aluminum oxide is a hard, blocky mineral that provides high cut-rate and long life. While silicon carbide breaks down faster than aluminum oxide, it produces a finer finish.
3M™ Roloc™ Quick Change Attachment System for Fast and Easy Tool Attachment
Our 3M™ Roloc™ quick change discs are smaller discs that easily and quickly attach onto a Roloc™ disc pad (sold separately) so that you can conveniently change discs from job to job or in multi-step finishing processes. Our 3M™ Roloc™ Quick Change Attachment System provides a secure attachment even for heavy-duty applications, and the variety of available Roloc discs allows swapping from one application to the next in seconds. Each disc is also color-coded to identify its grade, making it easy to grab the grade required for different applications.
The Many Benefits of Open Web Abrasives
We developed Scotch-Brite™ surface conditioning products with abrasives incorporated into non-woven nylon or synthetic fibers. Combining abrasives with the fibers creates an abrasive system that delivers consistent results for the life of the product. The open-web material runs cool, reducing the risk of part discoloration and warping. The fibers are load resistant and keep the abrasive minerals cutting at high performance by limiting clogging of the fibers, which also extends the life of the disc.