3M™ Specialty High Temperature Masking Tape 5501A is designed to be an extra strong painting tape optimized for the aerospace industry where holding and clean removal are vital through multiple low temperature bakes. Its capabilities also make it a top choice for specialized high temperature aerospace masking.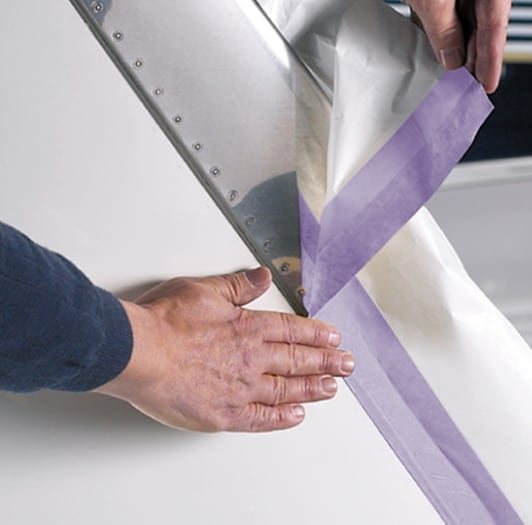 Clean removal following multiple moderate temperature bake cycles
Ideal for Aerospace
3M™ Specialty High Temperature Masking Tape 5501A sticks instantly to most surfaces, including metal, rubber, glass and plastic, as well as EPDM-type rubber moldings while removing cleanly in one piece. Our high-strength crepe-paper backing is designed at imperial widths to meet FAA regulations and features a thick backing proven to be excellent when tensioning for layout. It conforms to irregular surfaces, resists bleed through from most industrial paint systems, improves visibility during the paint masking process, and helps you achieve super sharp paint lines.
3M™ Specialty High Temperature Masking Tape 5501A is an ideal tape for industrial painting in the aerospace industry, including multi-color applications on airplanes. Controlled unwind reduces fatigue and improves accuracy during layout. It is easy to tear which aids in handling, yet strong enough to resist slivering, providing convenient one-piece removal.
Recommended Applications
Aircraft decorative painting, OEM and Refurbishment
High temperature masking in aerospace
What is Masking Tape?
Masking tape was developed specifically to help protect surrounding surfaces from overspray, provide clean paint lines, and remove easily and cleanly when finished. Masking tapes from 3M adhere well, resist solvents or water from the paint, and are strong enough to hang plastic sheeting, yet remove cleanly without damaging the subsurface. The backing, typically crepe paper, can conform to curved and irregular surfaces. The tape hand tears for tool-free application.