For applications requiring good adhesion to recycled corrugated fiberboard, use Scotch® High Strength Filament Tape 890RCT. This filament-reinforced tape is ideal for basiloid and heavy appliance lifting applications. It offers long-term holding power, very-high tensile strength, and excellent abrasion, moisture and scuff resistance.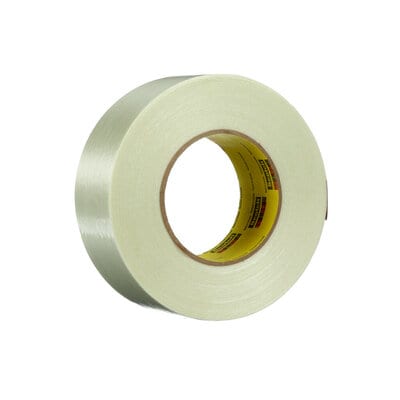 Good Adhesion to Recycled Corrugated Fiberboard
Designed to adhere to difficult surfaces, such as recycled corrugated fiberboard, our
Scotch® High Strength Filament Tape 890RCT
(PDF, 180.88 Kb) is an industrial-strength tape used in a variety of box-closure, appliance and basiloid applications. Constructed with a clear, filament-reinforced, polypropylene backing, this tape is abrasion, moisture, scuff and break resistant, even if nicked or punctured. This sturdy tape dispenses easily without curling for easy application. Its pressure sensitive synthetic rubber adhesive is specifically formulated to provide good adhesion and long-term holding power to recycled corrugated fiberboard. It is customizable and can be printed on with a print seal process to provide advertising and warning capabilities.
Recommended Applications
Basiloid
Heavy appliance lifting
Box sealing of corrugate
Bundling, reinforcing and strapping applications
The World's Go-To Source for Filament Tapes Since 1946
The 3M line of
filament-reinforced tapes and strapping tapes
(PDF, 3.64 Mb) are high strength, reliable and affordable solutions that give you product and package integrity. For closing boxes, stabilizing pallets, bundling and reinforcing; securing appliance components during transport and easy-open tear strips, our high strength tapes provide important benefits for manufacturers of piping, metal products, furniture, appliances, automotive parts, sporting goods, as well as food and beverage processors.