General purpose crepe tape provides solid coverage
Ideal for general woodworking, MRO/Construction, paint masking and more
Natural rubber adhesive sticks aggressively and holds confidently
Crepe paper backing conforms to irregular surfaces and around corners
3M™ General Purpose Masking Tape 203 is a pressure-sensitive tape designed with a natural rubber adhesive and a crepe paper backing. This design allows for instant stick and reliable holding, making our General Purpose Masking Tape 203 an excellent solution for most general purpose and entry level paint applications.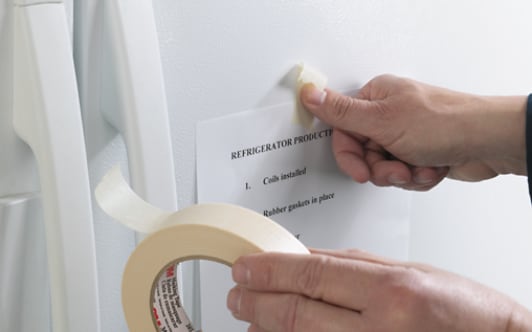 From Hanging Poly Drapes to Attaching Production Notes and Instructions
Conformable Tape with a Strong Hold
3M™ General Purpose Masking Tape 203
(PDF, 22.83 Kb) was designed to provide instant adhesion to a variety of surfaces. Its moderate adhesion supplies adequate holding power and helps resist lifting or curling. In addition, our General Purpose Masking Tape 203 is conformable, maintaining integrity and seal when formed around corners and uneven surfaces. The crepe paper backing resists slivering and tears off the roll easily. With good paint hold-out and bleed-through resistance, this masking tape is ideal for many applications and removes cleanly from most substrates for up to 24 hours and has a temperature resistance of up to 200°F (93°C).
Recommended Applications
MRO/Construction Painting
Woodworking
Entry level painting
Appliance sealing and wrapping applications
What is Masking Tape?
Masking tape was developed specifically to help protect surrounding surfaces from overspray, provide clean paint lines, and remove easily and cleanly when finished. Masking tapes from 3M adhere well, resist solvents or water from the paint, and are strong enough to hang plastic sheeting, yet remove cleanly without damaging the subsurface. The backing, typically crepe paper, can conform to curved and irregular surfaces. The tape hand tears for tool-free application.