Convenient sheet roll form enables use with 2-3/4" width Stikit™ hand pads of various lengths
Aluminum oxide mineral is durable, cuts fast, and performs well on many surfaces
A-weight light paper backing is suitable for hand sanding and finishing applications
Open coat construction provides a more aggressive cut and minimizes dust clogging on the abrasive for increased productivity
Load-resistant coating helps prevent premature loading of the disc surface to maximize cut and extend the life of the abrasive grains
3M™ Stikit™ Gold Paper Sheet Roll 216U is designed for convenience, combining open coat aluminum oxide abrasive with a handy adhesive backing ready for quick and easy attachment to our 3M™ Stikit™ hand pad (sold separately) for finishing applications. The sheet roll means the paper can be used on 2-3/4 inch wide Stikit™ hand pads in a variety of lengths.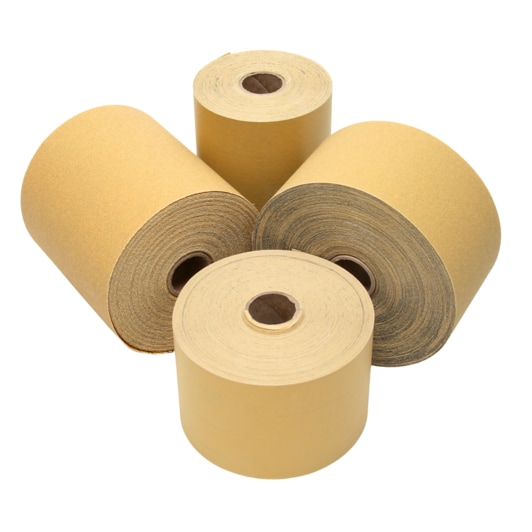 A great choice whether you're doing general purpose sanding or high performance wood finishing
Our 3M™ Stikit™ Gold Paper Sheet Roll (PDF, 21 Mb) is made of long-lasting aluminum oxide abrasive grains on a light A-weight paper backing suitable for lightweight hand sanding and finishing. The open coat and load-resistant coating help prevent loading for longer use, and help produce a smooth finish. Hand finishing is frequently used in woodworking applications to produce a fine finish on varnish, sealers, whitewood, and light color substrates.

We designed our 3M™ Stikit™ products to handle a wide range of sanding and finishing needs. These high-quality, coated abrasive products come ready to use with a pressure sensitive adhesive coating on the backside so they conveniently press on to a backup pad or hand pad, and remove cleanly, leaving an uncontaminated surface for the next sheet or disc.

Loading occurs when wood or paint dust clogs the surface of the disc and the abrasive points, which can quickly make the disc ineffective. Open coat construction means the abrasive grains are spaced so that dust and debris can collect in the spaces rather than loading the disc. Additionally, the open coat feature provides a more aggressive cut than a comparable closed coat abrasive of the same grade, for faster results.