Extremely flexible backing enables tape to stretch and conform to textured and irregular surfaces
Polyethylene backing has a low water vapor transmission rate and provides good solvent, alkali resistance
Rubber adhesive bonds well and removes cleanly from most surfaces
Tape remains adhered and flexible to temperatures as low as -20°F
Vivid colors and smooth backing provide excellent glossy appearance
Black tape has excellent UV resistance and can be used outdoors for up to 12 months
Constructed with an extremely conformable backing, 3M™ Polyethylene Tape 483 is designed to be used in a wide variety of general purpose applications including sealing, holding, coding, moisture proofing and protecting. This tape is coated with a rubber adhesive that bonds well and removes cleanly from most surfaces. 3M™ Polyethylene Tape 483 is available in a variety of vivid colors.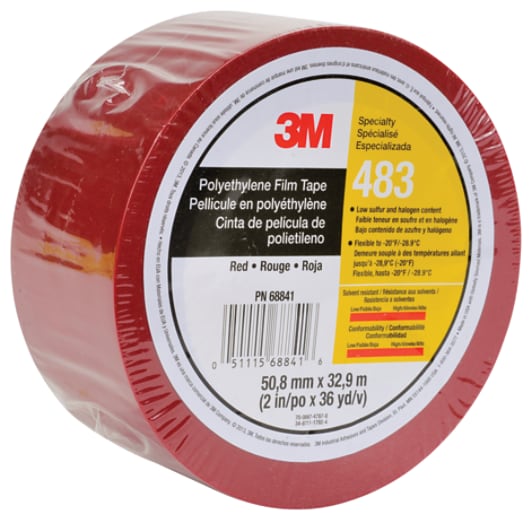 Conformable Backing for a Variety of Applications
Our
3M™ Polyethylene Tape 483
(PDF, 24 Kb) stretches easily and is highly conformable for a tight seal over and around irregular surfaces. The smooth backing provides good solvent and alkali resistance. Coated with a rubber adhesive, this tape bonds well to many surfaces and typically removes cleanly. This resilient tape can be used in outdoor applications and temperatures as low -20°F/-29°C to 170°F/77°C. The black version of this tape will remove cleanly from most surfaces in outdoor applications from up to one year.
Available in a variety of colors
Recommended Applications
General sealing of containers and irregular shaped objects
Separation of dissimilar metals
Decorative, safety marking and color coding
Nuclear power plant maintenance applications
Corrosion sensitive applications
Outdoor applications of sealing, protecting and preserving