FOR INDUSTRIAL USE ONLY: This product is designed exclusively for industrial applications
SPECIALLY-CREATED: Made for adhering foams and fabrics
SPECIAL DISPENSING: Uses a lace-spray pattern optimized for foam bonding
QUICK ASSEMBLY: Offers a fast, aggressive tack ideal for high-stress bonds
REPOSITION AND ADJUST: Allows for a working time of 30 seconds to 15 minutes
MADE FOR PROFESSIONALS: Provides industrial-strength bonding for demanding applications
COUNTLESS USES: Some possible applications include general upholstery, foam lamination, attaching foam and fabric to wood and other substrates, and installing acoustic panels
3M™ Foam Fast 74 Spray Adhesive is a fast-drying spray adhesive that bonds foam and fabric to a wide range of substrates. Its permanent bond provides fast results to keep projects moving ahead. The non-yellowing formula dispenses easily in a lace-spray pattern and applies directly onto surfaces and materials where needed.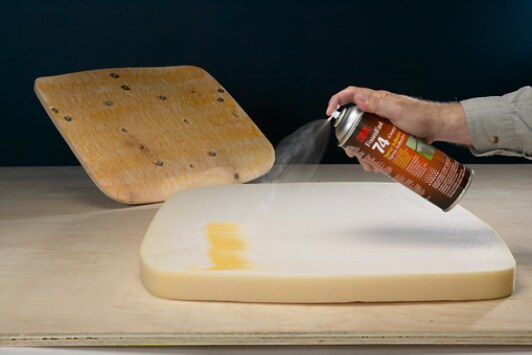 Allows foam to stick firmly for applications large and small
Recommended Applications
General upholstery
Foam lamination
Attaching foam and fabric to wood and other substrates
Installing acoustic panels
Fit for Foam and Fabric
3M™ Foam Fast 74 Spray Adhesive is capable of bonding foam and fabric onto a wide array of materials, including paper, cardboard, plastic, metal, wood and much more. This spray adhesive has been proven to work well for projects both large and small. Additionally, our
3M™ Foam Fast 74 CA Spray Adhesive- Low VOC <25%
is CARB compliant and eligible for LEED® credits.
Unlike any Glue
When 3M™ Foam Fast 74 Spray Adhesive was designed, we aimed to overcome the obstacles faced when applying the existing glues on the market. By inventing what can be considered a unique "spray glue," 3M was capable of providing a self-contained adhesive solution that saves both time and money.