The Scotch-Brite™ Deburr and Finish PRO Flap Brush features 3M Precision Shaped Grain, making it the highest performing flap brush for finishing/weld discoloration removal and extending product life for more parts per brush. Non-woven material finishes and provides consistency and conformability.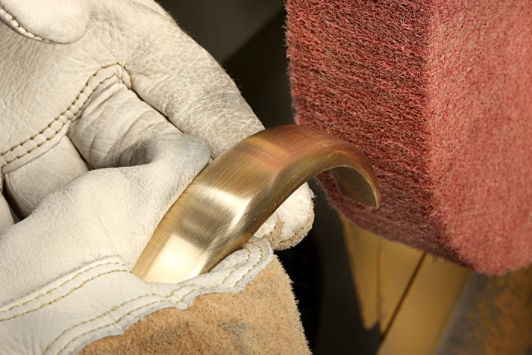 Contoured part finishing
The Benefits of 3M Precision Shaped Grain and Scotch Brite™ Web
When top product performance is the bottom line, we recommend our Scotch-Brite™ Deburr and Finish PRO Flap Brush for cleaning and finishing. We designed this flap brush with all the benefits operators have come to expect from our Scotch-Brite™ abrasives, including load resistance and responsive open web that produces an even, consistent finish. What sets this brush apart from other Scotch Brite™ abrasives is 3M Precision Shaped Grain (PSG). This proprietary mineral — coated throughout the abrasive — is engineered for hardness and strength for an exceptionally fast and consistent cut.
The sharp-cutting mineral is counteracted by soft, buoyant nylon fibers that respond to surface irregularities and contours. Gaps between fibers allow debris to escape and help minimize loading. Together, the web and mineral combine to aggressively tackle the substrate without sacrificing predictable results. It produces fine finishes on stainless steel and can clean brass and aluminum to provide a bright finish.
The Outstanding Performance of 3M Precision Shaped Grain
3M Precision Shaped Grain is produced using 3M technology to create triangular shaped ceramic mineral grains. The razor-sharp corners of each triangle act like individual cutting tools that slice through metal, and continuously shelf-sharpen as the points break off, ensuring extended high performance in heavy-duty production applications. The grains wear evenly and provide extra-long life and consistency with less grinding pressure. The result is that our PSG products outcut and outlast conventional ceramic industrial abrasive products, maximizing productivity and minimizing operator fatigue.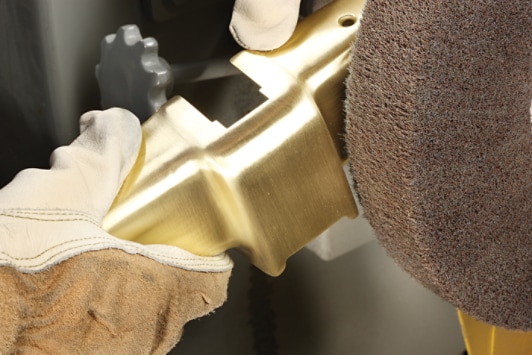 Blending finishes back into fabricated metal
The Anatomy of Flap Brushes
We engineer the Scotch-Brite™ Deburr & Finish PRO Flap Brush by adhering individual sheets of nonwoven abrasive material to a fiber core at a 90 degree angle. Under normal use (abiding by recommended RPMs), the brush minimizes chatter risk. As it spins, flaps rotate centrifugally and make continuous contact with the workpiece. By lapping the surface, the flaps eliminate the residual traces or marks that tend to be left by singular discs or discs ganged on a shaft.
A flap brush may be used with a variety of tools, including backstands, 3M™ Match and Finish Sander, and Inline Sanders.
The Many Advantages of Scotch-Brite™ Abrasives
Nonwoven technology makes our Scotch-Brite™ industrial abrasives unique. A combination of fiber strands, resin, and abrasive mineral forms a thick, open web. The spring-like nature of the fibers responds to contours and effectively removes unwanted burrs, soils, and contaminants while maintaining the geometry of the workpiece, which in turn reduces rework and boosts productivity.
Gaps in the web allow swarf to escape, so debris does not clog the mineral. Fibers in the web continually break down with use to reveal fresh mineral for exceptional consistency and long service life. Scotch-Brite™ products may enhance productivity while reducing the need for cleaning chemicals and wire brushes. Scotch-Brite™ abrasives work fast and deliver consistent results, part after part.