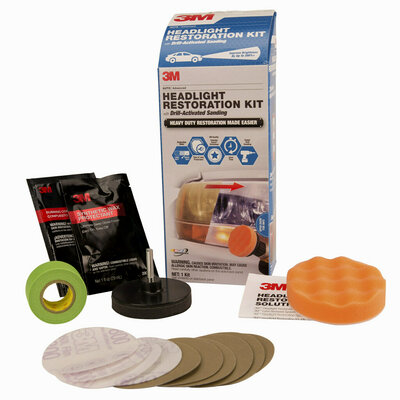 Kits contain masking tape, light sanding discs, wax protectant and more
Restore Your Headlights Without Replacing Them
Rather than using ineffective solvents — or spending big on new headlight lenses — you can choose our 3M™ Headlight Lens Restoration Kits. A complete system of light abrasives, polishes and protectants removes scratches, dirt and oxidization that can appear on your lenses, lowering your vehicle's value and reducing safe driving visibility. You can choose a kit that lets you restore headlight lenses without tools. Or, with just a spray water bottle and a common household drill, you can use the full kit with a complete range of abrasive discs for sanding, finishing and refining to remove discoloration that can cause your headlights, tail lights, fog and directional lights to appear cloudy and yellow — for a fraction of the cost and time of buying and installing new lenses. Each kit includes everything you need to restore two headlight lenses.
How Does it Work?
Our 3M™ Headlight Restoration Kit restores clear plastic lenses in a way that standard cleaners cannot. First, apply our high-performance masking tape to the painted surfaces around the lens you are restoring (some kits include 3M™ Automotive Masking Tape). Use our progressive system of Trizact™ abrasive discs to remove yellowing, scratches, dirt, haze, and other material buildup on the plastic lens. With or without a common household drill, our Hookit™ attachment system makes it easy — just slap the disc onto a pad, and you're ready to go. A choice of Headlight Restoration Kits features our 3M™ Scratch Remover or 3M™ Rubbing Compound to achieve maximum shine and clarity. Then, using a soft cloth, apply a light coating of 3M™ Synthetic Wax Protectant. Remove the masking tape, and you're finished.
About Our Trizact™ Abrasives
The abrasive in our Trizact™ abrasive discs for headlight restoration is so fine that you can sand across the plastic lenses without worrying about creating scratches or other damaging marks. 3M™ Trizact™ abrasives feature microreplication — small 3-dimensional structures are reproduced and then uniformly distributed over the surface of the disc. These patterned, precise mineral structures contain multiple layers of abrasive mineral. As the structures wear, fresh, sharp mineral is exposed. The result is that the abrasive cuts faster, stays sharper longer and allows for precise finish control — it removes the yellowing, dirt buildup and small scratches that can cause haze, without damaging the lens itself.
Why Do You Need Headlight Restoration?
Today's vehicles have a greater number of plastic components, from plastic headlight lenses to motorcycle windshields, plastic tail lights, trailer lights and more. Plastic components are great for durability and reducing overall weight, but they can yellow and haze with weather, sun and sand, limiting visibility and diminishing the appearance and value of the vehicle. While the impact on a vehicle's value varies, the dangers in terms of limited visibility are clear: It is a factor in 2.8 million accidents, 23,000 fatal crashes and 2,300 pedestrian deaths each year, according to the Motor Vehicle Lighting Council. Dim headlight bulbs and hazy plastic headlight lenses or surfaces may lead to this reduced visibility, putting you, your passengers and other cars at risk. The AAIA Car Care Council found that 26 percent of the cars it inspected had issues with their lighting system. Millions of cars on the road today have plastic headlight lenses. The problem increases with the age of the lens, and with the average age of cars on the road about 10 years old, the problem is growing. That is why it is important to correct hazy, dull headlights.