The 3M™ Hookit™ Hard E-Coat Abrasive Disc is built for effectively sanding hard e-coats in collision repair. Tough, durable discs feature a diamond grade mineral blend for scuff sanding e-coat primers and hard substrates on OEM auto panels. Technicians get a consistent matte finish for better paint adhesion. Hookit™ attachment makes changeouts fast and easy.
Cut through hard E-coat surfaces faster, and lasts longer than conventional sanding discs in these applications
Tough Discs for the Toughest Coatings
We developed the 3M™ Hookit™ Hard E-Coat Abrasive Disc for consistent finishes, better paint adhesion and reduced costs when sanding the latest, hardest OEM primers and e-coats. These durable discs are engineered for some of the toughest jobs in collision repair: scuff sanding electro-coated primers on new OEM panels, or featheredging hard ceramic OEM clear coats. Long-lasting, fast-cutting diamond grade mineral blend leaves a consistent matte finish at the equivalent of P320 for consistent and effective paint and topcoat adhesion.
Diamond Grade Mineral Blend for Hard E-Coats
These discs feature a specially-designed diamond grade mineral blend developed for performance on some of the hardest surfaces in collision repair. Technicians can reliably create consistent matte scuff patterns on e-coats or featheredging on hard ceramic OEM clears, without resorting to extremely coarse grades that can cause uneven results or burn-through. And, since the diamond blend is significantly harder than the automotive surface, the disc lasts longer for increased productivity.
Better Dust Management
Hookit™ Hard E-Coat Abrasive Discs are designed with small, precise spiral-patterned holes to give dust a better escape route, moving more dust away from your finishing surface without loading the disc. This helps the disc last longer, increases productivity and reduces material consumption.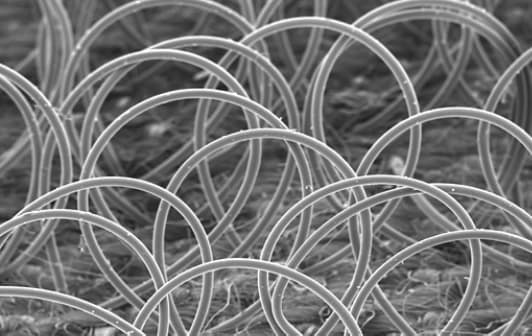 Brushed nylon loop backing
Our Hookit™ Attachment System
The Hookit™ attachment system has a hook-and-loop feature which makes disc attachment, removal, and re-attachment clean and easy. It also facilitates use and re-use of the disc for maximum product life. Hookit™ discs have a brushed nylon loop backing of the type most commonly used in everyday hook-and-loop applications.
3M™ Hookit™ disc pads
(sold separately) feature hooks which grip the brushed nylon loop backing. It's simple: just attach the disc and start sanding. The disc removes just as cleanly and easily. The Hookit™ system is designed for work spaces and applications where adhesive backed discs may become contaminated by dust, dirt, or debris.
Better Science for the Toughest Sanding from 3M
Through decades of developing our abrasives for collision repair, 3M has combined science, strength and smoothness — from diamond grade mineral blend to fast, easy attachment to spiral hole patterns for dust management. The 3M™ Hookit™ Hard E-Coat Abrasive Disc is an example of how we apply science to the latest, toughest sanding jobs, meeting the specific needs of collision repair technicians in a fast-developing field.
More about 3M™ E-Coat and 3M™ Ceramic Clear Coat Discs
(PDF, 25.5 Mb)
Discover More 3M™ Automotive Aftermarket Products
(PDF, 69 Mb)