Scotch-Brite™ Roloc™ Surface Conditioning Low Stretch Disc is a non-woven abrasive product used for cleaning, finishing, blending and deburring applications. This versatile disc has the advantages operators have come to expect from Scotch-Brite™ and Roloc™ products, including responsive open web and a speedy attachment. The low stretch backing gives the disc added stiffness.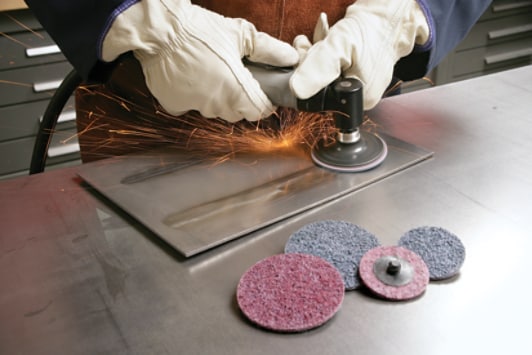 An excellent starting point to remove surface imperfections grindlines, mill, and other marks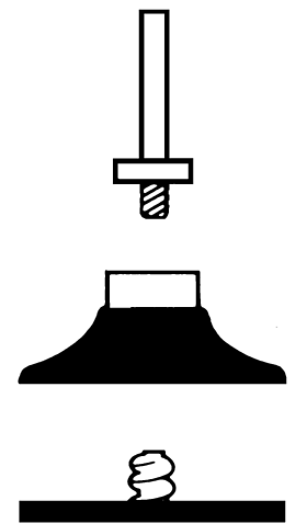 Roloc™ attachment for quick, easy disc to tool attachment
3M™ Roloc™ Attachment Expedites Disc Swaps
This disc also features a 3M™ Roloc™ attachment, which helps expedite disc to tool attachment. Roloc™ discs fasten to Roloc™ backup pads (sold separately) with a simple 1/2 turn. Subsequently, the backup pad attaches to the tool, be it a disc or die grinder. Roloc™ discs were engineered to make disc to tool attachment swift, easy and more efficient.
The Many Benefits of Scotch-Brite™ Abrasives
Nonwoven technology makes our Scotch-Brite™ industrial abrasives unique. A combination of fiber strands, resin, and abrasive mineral forms a thick, open web. The spring-like nature of the fibers responds to contours and effectively removes unwanted burrs, soils, and contaminants while maintaining the geometry of the workpiece, which in turn reduces rework and boosts productivity. Gaps in the web allow swarf to escape, so debris does not clog the mineral. Fibers in the web continually break down with use to reveal fresh mineral for exceptional consistency, superior cut performance, and extremely long service life. Scotch-Brite™ products may enhance productivity while reducing the need for cleaning chemicals and wire brushes. From aesthetic finishing to weld blending, deburring, and more, Scotch-Brite™ abrasives work fast and deliver consistent results, part after part.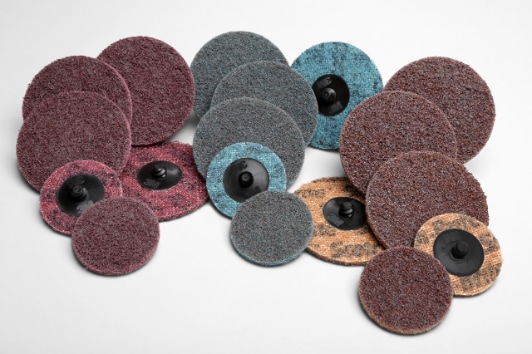 Scotch-Brite™ products can help make your tough jobs easier. Achieve burr-free, paintable finish in fewer steps without damaging the base material.