3M™ Factory-Match Seam Sealer uses two part urethane technology to provide a tough flexible material for the sealing of joints on primed or painted substrates such as steel or aluminum enclosures. This material provides excellent flexibility and elongation properties along with a medium/high viscosity and produces a slight flow-out after application.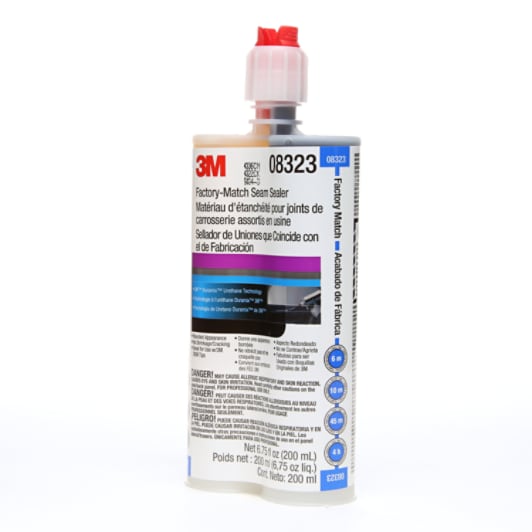 3M™ Factory-Match Seam Sealer is part of a family of quality automotive products
Eliminate Downtime
Single component sealers require significant dry time before components can be handled or further processed in your shop. Our high-performance 3M™ Factory-Match Seam Sealer operates with a two-part cartridge and nozzle that self-mixes with a perfect formulation every time allowing for fast easy application and quicker cycle time than with one part sealers. 3M™ Factory-Match Seam Sealer may be top coated with paints in 45 minutes under normal conditions.
Match OEM Appearances
This
professional-quality black seam sealer
(PDF, 27 Kb) can be used to seal vertical or horizontal seams on automotive surfaces primed with a 2K urethane, 2K epoxy primer, or clean, sanded paint. Its slight flow-out softens on the edges, without tooling, giving a rounded appearance. This flexible rounded seam seal is suitable for duplicating factory door skin seams and matching OEM beads.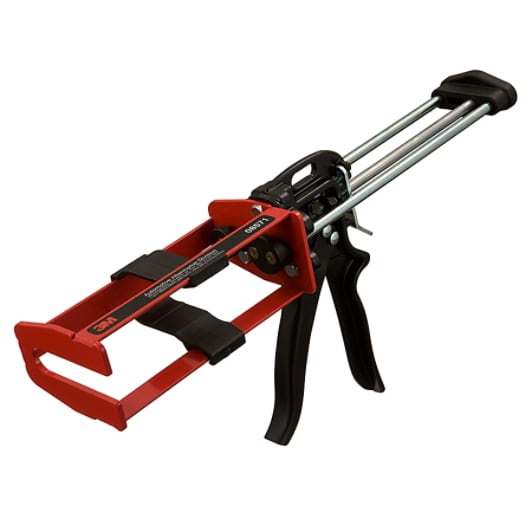 Manual applicator PN 08571 for seam sealer (sold separately)
Durable, Fast-Cure Formula Creates a High Quality Seal
Our flexible formula works within a wide range of temperatures with no shrinking or cracking to achieve strong, durable construction. It offers a fast setup time of 10 minutes, decreasing downtime and allowing technicians to continue repair procedures quicker for increased productivity. Moreover, the fast-cure formula means there is a limited time of uncured product on the car and the risk of damaging the seam by disturbing uncured seam sealer is greatly reduced. This enables technicians to quickly achieve a long-lasting, high quality seam seal.
Using the Seam Sealer Effectively
3M™ Factory-Match Seam Sealer can be used with the following 3M™ Applicators: PN 08117 (manual), PN 08571 (manual), and PN 09930 (pneumatic). Also use 3M™ Mix Nozzle: PN 08193 (6/bag), PN 8194 (50/box) and 3M™ OEM Sealer Tip PNs 08201 — 08205.
The following times have been determined with ambient air temperature and substrate temperature at 70°F (21°C) and are considered typical values: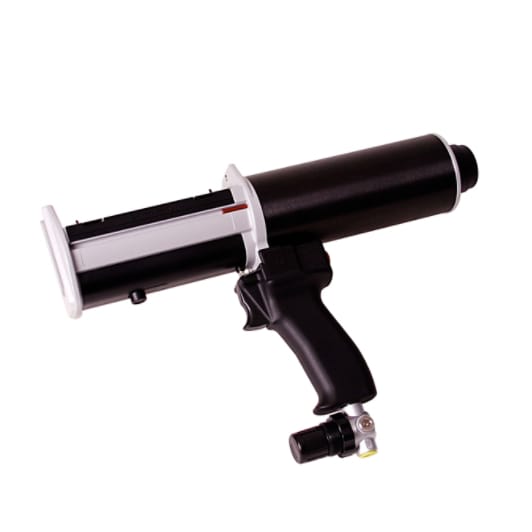 Pneumatic applicator PN 09930 for seam sealer (sold separately)
WORK TIME: 10 minutes
MIX NOZZLE DWELL TIME: 6 minutes
CURE TIME: 4 hours
PAINT TIME: 45 minutes
TENSILE STRENGTH: 2517
PSI ELONGATION: 390%
3M best practice is that all sealers, unless designated specifically for use on bare metal, be applied to properly prepared automotive paint or primer. Apply only to surfaces primed with a 2K urethane, 2K epoxy primer, or clean, sanded paint. Acid etch primers should never be in direct contact with seam sealer. Prior to application, scuff primed surface with a Scotch-Brite™ General Purpose Hand Pad, PN 07448 (Ultrafine).
3M Science Meets the Needs of Automotive Professionals
3M used the technical properties of two-part urethane to create a sealer that combines toughness with flexibility. 3M™ Factory — Match Seam Sealer is ideal for lasting seam sealing protection on many different surfaces, and allows technicians to expertly recreate OEM seam sealer appearances. This formula represents another way 3M applies science to improve working conditions and productivity in the automotive industry.