Ideally suited for rust, coating and weld discoloration removal the Scotch-Brite™ Roloc™ Clean and Strip Disc is a long-lasting abrasive that combines silicon carbide mineral with non-woven nylon fibers. This unique disc can aggressively clean without significantly altering the base material.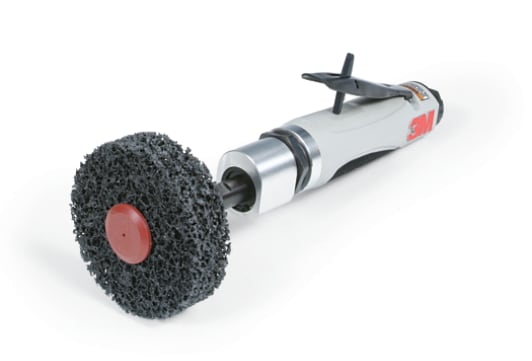 3M Die Grinder 20240 with Scotch-Brite™ Clean & Strip Discs
Roloc™ Attachment for Swift Disc Changes
The Scotch-Brite™ Roloc™ Clean and Strip Disc binds silicon carbide mineral and non-woven nylon fibers using resin. Resin dissolves and breaks down over time, helping the abrasive stay strong and resist heat. With the convenience of the Roloc™ attachment system, disc change-out for multi-step finishing processes is both quick and easy. The disc swiftly mounts to a
holder pad
(sold separately) which, subsequently attaches to abrasive tools like die grinders and right angle disc sanders.
Silicon Carbide Mineral
We use silicon carbide in the Scotch-Brite™ Roloc™ Clean and Strip Disc, because it's a very sharp synthetic mineral that is commonly used for low-pressure applications such as paint prep. While it breaks down faster than aluminum oxide, it produces a superior finish. The extra coarse (XCS) mineral works hard to remove unwanted corrosion and blemishes from a variety of substrates. It aggressively removes paint and rust from seams, door jambs, drip moldings, pinchwelds and other difficult-to-reach areas.
The Many Benefits of Open Web Abrasives
Nonwoven technology makes our Scotch-Brite™ industrial abrasives unique. A combination of fiber strands, resin, and abrasive mineral forms a thick, open web. The spring-like nature of the fibers responds to contours and effectively removes unwanted burrs, soils, and contaminants while maintaining the geometry of the workpiece, which in turn reduces rework and boosts productivity. Gaps in the web allow swarf to escape, so debris does not clog the mineral.
Fibers in the web continually break down with use to reveal fresh mineral for exceptional consistency, superior cut performance, and extremely long service life. From aesthetic finishing to weld blending, deburring, and more, Scotch-Brite abrasives work fast and deliver consistent results, part after part.