3M™ Hookit™ Gold Abrasive Sheet 216U is a paper-backed abrasive sized for a range of files and pads to reduce product waste. Aluminum oxide mineral abrasive delivers a sharp cut and uniform finish during collision repair. These sheets feature Hookit™ hook-and-loop attachment, making them exceptionally fast and easy to attach, remove and reuse with power or hand sanding equipment.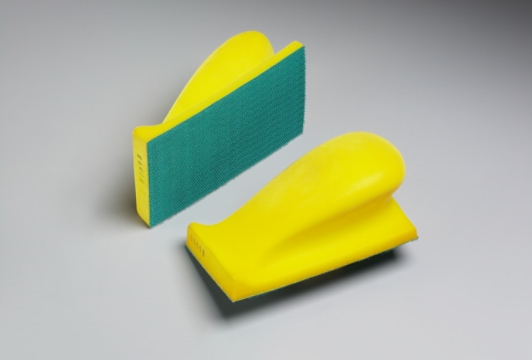 Use with Hookit™ sanding blocks for consistent, uniform sanding results
The Efficiency of a Sheet, The Speed of Hookit™ Attachment
3M™ Hookit™ abrasive sheets come ready to use, sized to fit easily with a range of standard air file shoes and pads. They also feature fast and easy hook-and-loop attachment — simply press the sheet onto a Hookit™ file shoe or backup pad and you're ready to go.
Sharp Abrasive for a Refined Finish
With its open coat construction and aluminum oxide mineral abrasive, our 3M™ Hookit™ Gold Abrasive Sheet 216U provides a sharp cut — more aggressive than a comparable closed coat abrasive of the same grade. Paper backing and a range of medium-fine grits make these sheets ideal for featheredging and final primer sanding. The Hookit™ Gold Abrasive Sheet 216U is suitable for collision repair substrates including clear coat, fiberglass, paint, plastic, primer and putty.
Resists Dust and Debris
Open coat construction means the abrasive grains on our 3M™ Hookit™ Gold Abrasive Sheet 216U are placed with space between them to help evacuate sanding dust and other debris to avoid clogging the cutting edge of the grains. The load-resistant coating on the abrasive grains also allows the sheet to continue cutting even when sanding paints and other materials that would otherwise clog the surface and hinder sanding ability. All of this adds up to increased productivity and reduced material consumption.
Ideal for achieving a true flat surface
Our Hookit™ Attachment System
The Hookit™ hook-and-loop feature makes sheet attachment, removal, and re-attachment clean and easy, and facilitates use and re-use of the sheet for the full extent of its abrasive life. Hookit™ sheets have J-shaped hooks of the type most commonly used in everyday hook-and-loop applications. Hookit™ sheets grip the brushed nylon loop backings of 3M™ Hookit™ disc pads, file shoes and blocks. It's simple: just slap the sheet on and start sanding. The sheet removes just as cleanly and easily. The Hookit™ system is designed for work spaces and applications where adhesive backed sheets may become contaminated by dust, dirt, or flying debris.
Better Science for Better Sanding from 3M
Through decades of developing our abrasives for collision repair, 3M has combined science, strength and smoothness — from mineral abrasive grains to fast, easy attachment to durable backing and convenient sizing. Our 3M™ Hookit™ Gold Abrasive Sheet 216U is another example of a paper-backed abrasive sheet that makes life easier and more profitable in collision repair.