The Hookit™ Clean Sanding Disc Pad Kit features a durable foam Hookit™ disc back-up pad with 5/16-24 internal threads, and includes five adapters so the pad can be quickly and easily attached to different tools. The disc pad also features a multi-hole 3M™ Clean Sanding pattern for superior dust extraction, ready for use with Clean Sanding discs on random orbital and central-vacuum-ready sanders.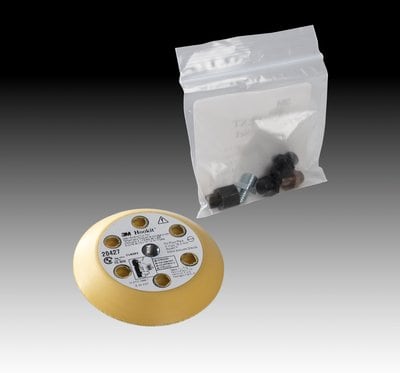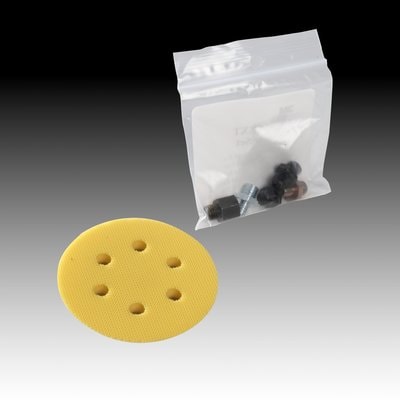 Frontside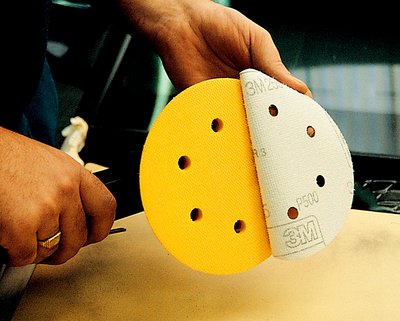 Hookit™ sanding discs remove cleanly and easily
For an expanded range of capabilities across your sanding equipment, our Hookit™ Clean Sanding Disc Pad Kit provides five adapters that let operators attach the durable foam back-up pad to a number of different tools. The kit disc back-up pad features both our Hookit™ system for quick disc change-outs and our Clean Sanding multi-hole pattern for superior dust evacuation.
Threaded spindle adapters included in the kit range from 1/4-20 x 5.16-24 external threads, 1/4-20 internal threads x 5/16-24 external threads, 1/4-28 external threads x 5/16-24 external threads, 5/16-24 x 5/16-24 external threads, or 6 mm x 1.0 external threads. This allows operators to extend the benefits of 3M™ Hookit™ and Clean Sanding systems to a wider variety of tools and applications.
Hook-and-loop style backup disc pads firmly attach to Hookit™ sanding discs, ideal for work spaces where adhesive backed discs may become contaminated by dust, dirt, or flying debris. Hookit™ is often used in applications where an adhesive backed disc may be too aggressive, as Hookit™ discs tend to leave finer finishes than adhesive backed discs. Hookit™ sanding discs can be removed cleanly and easily, and can be re-used again and again for the extent of the abrasive life.
3M's Clean Sanding dust-management system features a multi-hole pattern on Clean Sanding products that evacuates dust at a higher rate than 5- or 6-hole products, dramatically increasing disc life and maximizing cut-rate. This hole design doesn't even require alignment of holes with the disc pad, making disc changes quick and simple. Optimized with a self-generated vacuum sanding tool fitted with a Clean Sanding filter bag (sold separately), Clean Sanding products allow the vacuum to suction dust from the air and off of the workpiece. This reduces loading of the disc and adds life to the abrasive. Additionally, reducing dust in the air improves working conditions. All of this adds up to increased productivity and reduced material consumption.