Designed specifically to keep electric vehicle (EV) batteries within their optimal temperature ranges
Conformable, highly compressible material can be used in gaps where thermal management materials couldn't be used before
Can prevent outside temperatures from heating the battery by as much as 33%
Helps warm the battery as much as 20% faster in colder temperatures
Flame resistant (UL 94 V-0)
Stable roll good is easily converted for production efficiency
Provides excellent cavity
Performs well in high temperature applications
Fire resistant
3M™ Battery Enhancement Material 1807S is designed specifically to help keep xEV batteries operating within optimum temperature ranges. Ideal for filling the variable gaps between battery packs and lids, this conformable, compressible material insulates against ambient environmental temperatures to help reduce power draw for battery warming and cooling, which can extend range and battery life.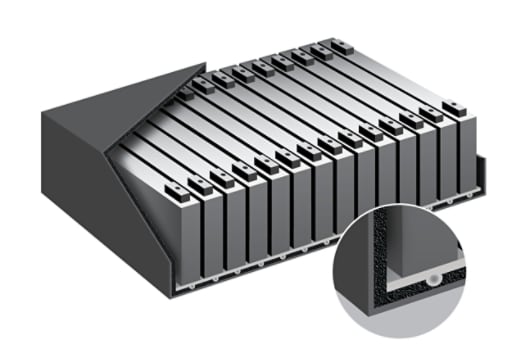 3M BEM can help extend driving range by maintaining optimal battery temperature longer
Greater range. Faster charging times. Extended xEV battery life.
Managing temperature is a critical consideration for automotive OEMs as they strive to increase driving range and optimize EV performance. Heating a battery in cold environments can require a large amount of power — much more than is required to keep it cool. Yet excessive temperatures can permanently impair the battery's storage capacity and shorten its life.
Our
3M™ Battery Enhancement Material 1807S
(PDF, 169.00 Kb) is an excellent solution. Our testing has shown that using this material to help manage ambient temperatures can prevent outside temperatures from heating the battery by as much as 33%. It can also help warm the battery as much as 20% faster in colder temperatures. This results in a reduction in power draw, meaning less battery power is required to keep the battery operating at its optimal temperature. The material can also add from 10% to 20% range depending on battery design, environmental and interior vehicle temperatures and consumer driving habits.
Properties of 3M Battery Enhancement Material
Thin and much lighter (less than 300 gsm basis weight) than most current battery thermal management solutions, 3M BEM ideal for cavity filling and for adding insulation to areas where using thermal management materials wasn't possible before. It features an advanced fiber technology that combines low thermal conductivity with excellent compressibility and recovery properties. It performs under extreme temperatures (tested at -40°C for 24 hours; 150°C for 168 hours; and 120°C for 500 hours.) It also delivers UL 94 V-0 flame resistance.
3M BEM is a stable roll good that can be converted into shapes and configurations for design flexibility and installation efficiency. It is available slit, laminated, die-cut and edge-sealed to individual customer specifications.
Recommended Applications:
Gaps between xEV battery pack and pack lid
Bottom, top or wrapped around the battery pack within the battery case
Commonly used under cooling plates
Various types of xEV battery pack constructions
Why 3M Battery Enhancement Material?
xEVs can lose overall range when operated at cold and hot environmental temperatures, without even using the HVAC system. Managing this ambient temperature is crucial to keep xEV batteries operating within optimal temperature ranges and optimize performance and battery life.
Learn more about thermal management solutions for xEV batteries
About 3M Automotive Electrification
3M Battery Management Material 1807S
is just one part of our extensive work within the automotive industry to help OEM and Tier suppliers create the electric vehicles of the future. To address emerging challenges in xEV battery assembly, as well as areas including noise, vibration and harshness (NVH), thermal runaway, electrical isolation and thermal management, 3M combines a strong foundation in material science with decades of shared expertise across core technologies. Our well-known 3M™ Thinsulate™ polymeric microfiber technology along with 3M adhesives, advanced composites, electronic materials, fluoromaterials and others form the basis for collaborative solutions in performance, safety and efficiency with automotive OEM and Tier suppliers worldwide.