3M™ Engineered Damping Material EDM1016 delivers high NVH performance at a much lower weight than traditional CLDs. It damps structure-borne noise in designs using lightweight substrates such as composites without adding significant weight. This flexible, conformable, adhesive-backed and customizable 1.6 mm material installs more easily, more cleanly and in more places vs. AL butyl or bitumen.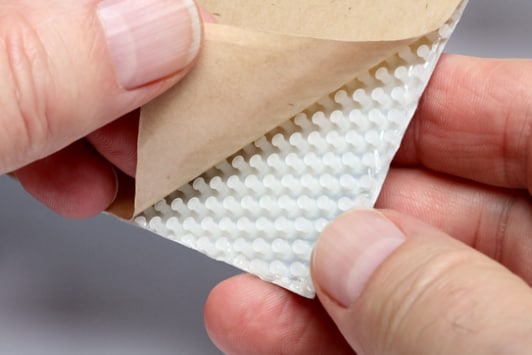 A light weight, flexible, adhesive-backed solution that delivers high vibration damping performance
High NVH Performance. Less Material. Half the Weight
A true advancement in automotive NVH management, our
3M Engineered Damping Material EDM1016
(PDF, 240.85 Kb) allows you to use lighter-weight parts for equal or better performance vs. conventional CLD solutions. This thin, 1.6 mm material features an engineered stem web layer between two layers of adhesive, along with an aluminum constraining layer. It is excellent for damping structure-borne noise, which is critical as OEMs continually incorporate lighter-weight substrates such as thin-gauge steel, aluminum and composites into their vehicle designs. It is a great alternative to traditional damping as OEMs strive to meet fuel efficiency and CO2 regulations. It meets the requirements of many OEMs for low interior VOCs.
Learn more about 3M Engineered Damping Material EDM1000 Series
(PDF, 633.9 Kb)

Easy, Clean Installation Nearly Anywhere on the Vehicle
3M™ Engineered Damping Material is a thin, flexible, conformable material that can be applied uniformly even to complex shapes. Its adhesive backing allows for easy, precise and permanent installation — even to inverted or vertical areas where other CLDs have been difficult to install, such as roofs and door panels. It also adds stiffness to the substrate, along with better surface contact for better damping performance.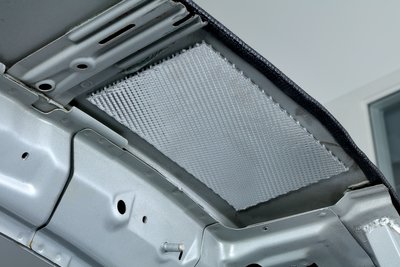 The flexible material applies easily to irregular or curved surfaces
Recommended Applications:
Roofs
Doors
Trunks
Floors
Rear wheel arches
Spare tire areas
Customizable for nearly any area of the vehicle
Why Automotive Manufacturers Choose 3M Engineered Damping Material:
High damping performance. Constrained layer material provides excellent acoustic damping across a range of frequencies, with advantages over traditional materials at temperatures above 40°C.
Lighter weight. Engineered web stem construction delivers similar performance in much smaller parts vs. Al butyl or bitumen.
Easy to use. Integrates quickly into OEM general assembly processes.
Easy to install. Thin, conformable material handles well and applies uniformly across irregular or complex surfaces.
Can be used in more places. Adhesive backing makes for precise, permanent application, well-suited for roofs and door panels. It can be customized for nearly any area of the vehicle.
Manufacturing support. 3M Engineered Damping Material is supported by a global network of 3M experts. Available in a variety of standard sizes, with custom die cutting services available as required.
About 3M and the Science of Sound
As part of our overall presence in transportation industries across the globe, 3M has spent decades helping effectively managing noise, vibration and harshness (NVH) in automotive OEM. Our Thinsulate™ brand has been instrumental in improving sound insulation and absorption, from parcel trays instrument panels to cavity filling to engine-side and other high-temperature applications. Our 3M Engineered Damping Material is another advancement at the intersection of damping performance, lightweighting and meeting stringent standards for fuel efficiency and CO2 worldwide.