3M™ Stikit™ Hand Blocks offer a durable flat surface with good adhesion for hand sanding with 3M™ Stikit™ Sheet Rolls and Stikit™ Sheets. Made of sturdy, long-lasting material, these yellow blocks are available in firm and soft density for added control in hand sanding and finishing applications. The block fits comfortably in the palm and its ergonomic design relieves hand cramping.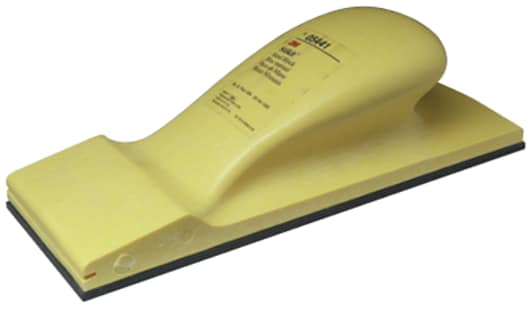 Ergonomic shape fits in your hand easily to reduce fatigue
Long-Lasting Block Ideal for Prolonged Use
For auto body technicians and other professionals who log hour after hour of hand sanding, we recommend a long-lasting, quality hand block that lends efficiency to the process, lasts for years, and is comfortable to use. Our 3M™ Stikit™ Hand Blocks are ideal for prolonged use. They provide a true, reliable flat surface that won't distort with pressure or over time, enabling highly efficient sanding and finishing on flat or contoured surfaces and in grooves and corners. And our hand blocks are built for the long haul—users report sanding with them for years without needing a replacement.
Convenience and Comfort Enhance Output
The blue embossed rubber face enables excellent adhesion for 3M™ Stikit™ Sheets and Sheet-Rolls, which come in a variety of grits to suit many different applications. The Stikit™ system provides reliable attachment so the abrasive sheet doesn't slide around, but removes easily to allow quick and easy sheet changes. Having Stikit sheets and hand blocks on hand adds ease and convenience to shop operations. With operator comfort in mind, we designed our hand blocks to fit easily in your palm with comfortable pressure points to help eliminate hand cramping or finger tingling. Its lightweight construction makes quick sanding a breeze.
Even pressure distribution eliminates finger marks on the workpiece
Two Densities for Sanding or Finishing
Our 3M™ Stikit™ Hand Blocks come in two different models: firm density for sanding with coarser grits, and soft density for hand finishing with higher grits. The firm block maximizes the cut of coarse abrasives, while the soft block produces a smoother finish on paint prep and other fine-grade sanding applications. Its flexible molded foam construction is well-suited for flat or contoured surfaces but is firm enough that hand pressure won't twist the handle or the face. The firm block is slightly longer than the soft model to better suit sanding with long strokes.
Better Science for Better Sanding from 3M
Our 3M™ Stikit™ Hand Blocks are another example of how 3M uses science to improve aftermarket repairs. 3M engineers thoughtfully designed these blocks to integrate quality with comfort and convenience. These blocks lend ease to repetitive processes and enable operators to sand or finish areas by hand with quick, professional results and reduced fatigue, part after part.
3M Industrial Products Catalog: Accessories for Abrasive Products
(PDF, 4.29 Mb)