Designed specifically for bonding expanding polystyrene foams (EPS)
Forms a bond stronger than the polystyrene foam
Will not dissolve or degrade polystyrene
Sprays with a lace pattern optimized for foam bonding
Provides professional, industrial strength adhesive for demanding applications
Allows for a bond time of one to 30 minutes
3M™ Polystyrene Insulation Adhesive 78 is our high strength, industrial grade spray adhesive with an extended bond time of up to one hour. It is effective for bonding most types of insulation such as fiberglass and expanded polystyrene foam (EPS) onto numerous kinds of materials including plastics, metals, wood, paper substrates and more.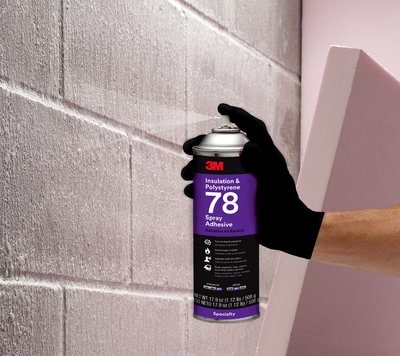 This spray adhesive allows enough time to position your polystyrene properly
Other Recommended Applications Include
Foundation insulation
Polystyrene block assembly
Attaching foam to wood and other substrates
Proven excellent for roofing and landscaping
Styrofoam cores for composites
Your Polystyrene Adhesive
3M™ Polystyrene Insulation Adhesive 78 is capable of bonding polystyrene foam onto a wide array of materials, including paper, cardboard, plastic, metal, wood and much more. This spray adhesive has been proven to work well for projects both large and small.

Cylinder Spray Delivery
3M™ Polystyrene Insulation Adhesive 78 can be used with our 3M Cylinder Spray Adhesive system. Each cylinder is self-contained, pressurized, and ready for immediate use. Available in a variety of sizes, they're portable and require minimal equipment investment and maintenance. Our cylinders help increase your productivity with fast application and no time-consuming equipment setup. The applicator and hose connect quickly and allow you to start spraying immediately. Our new high output applicator with controlled wide web pattern for fast coverage. The wide, uniform spray is the optimal pattern to deliver effective and economic use of the adhesive. It also minimizes any pooling for even curing. 3M has a complete line of innovative sprayable adhesives that support a wide range of industrial applications, from aerospace to woodworking.