3M™ Premask Application Tape works as a backing, pre-mask or pre-spacing tape with 3M™ Scotchcal™ Signwriter and Punched Bulk Film rolls (both sold separately). Our tape may also be used to create vehicle patterns prior to cutting out Scotchgard™ Paint Protection Film.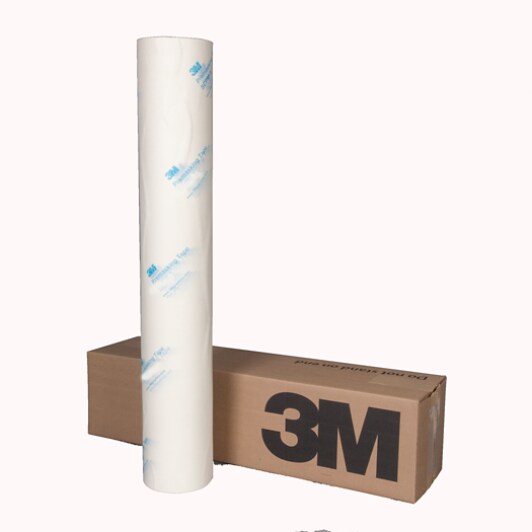 This tape is primarily used as a protective layer when applying graphics
A Specialty Tape for Graphic Applications
3M™ Premask Application Tape is an adhesive-backed material that is used as an aid in the application of graphics. Being translucent, the tape allows automotive technicians to see their work in progress to enhance quality control. Our tape can create vehicle patterns when using paint protection film. It is also commonly used on large graphic or wide striping applications. Premasking tape increases stiffness during application while preventing stretching and damage.
What Premask Application Tape Does
Our premask application tape bonds vinyl graphics to the surface of the substrate where it is displayed. Simply apply our pressure-sensitive adhesive premask tape to the front of the vinyl material. Then apply pressure with a squeegee or similar tool to secure the bond. Our application tape will help protect the graphic material during this process. When the tape is pulled away, the lettering or graphic image is transferred to the substrate.
Typical uses of application tapes are to:
Add stiffness to make application easier.
Protect the film from stretching during application.
Protect the graphic image from scratching during application.
Aid in the registration of cut graphic parts.
Protect applied graphics from damage during other operation
See more High Performance Striping Tape
(PDF, 2.02 Mb)