3M™ Scuff-It™ Paint Prep Gel is a one-step scuffing agent that makes panel preparation faster, easier and more thorough. Used in conjunction with Scotch-Brite™ Hand Pads (sold separately), Scuff-It™ Gel produces a ˝key-cut˝ scratch pattern on the surface that improves paint adhesion.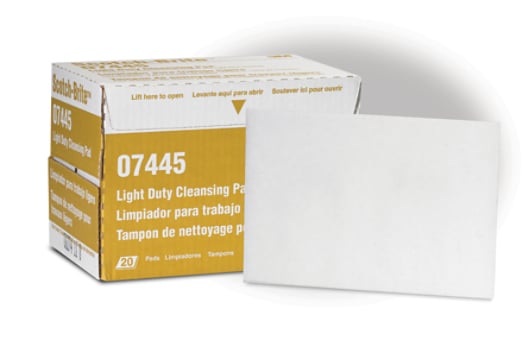 Use as carrier pad with 3M™ Scuff-It™ Paint Prep Gel for "buff back" and blending (sold separately)
Turbo Charge your Scotch-Brite™ Pad for Scuff Sanding
A scuff pad or sandpaper alone cuts "valleys" into the surface that can result in low paint adhesion. Our 3M™ Scuff-It™ Paint Prep Gel works with your Scotch-Brite™ Pad to create a more jagged scratch that locks in the application of primer or paint.
The combination of pad and gel makes surface scuffing a quick, easy application requiring minimal elbow grease. Scuff-It™ Gel features a specifically formulated abrasive composition that provides a faster cut than other prep gels, and its unique formula clings to panels and other vertical surfaces, yet rinses off easily with water.
Learn more about Scotch-Brite™ Scuffing for Paint Preparation
(PDF, 918 Kb)
Ease of Use
3M™ Scuff-It™ Paint Prep Gel is specially formulated for use with the following pads (pads sold separately):
3M™ Clear Blend Prep Scuff Pad—gold (07745)
Scotch-Brite™ Light Duty Cleansing Pad—white (07445)
Scotch-Brite™ Ultra Fine Pad—gray (07448)
ScotchBrite™ Multi-Flex Abrasive Sheet Roll—ultra fine gray (07522)
Scotch-Brite
™ pads rinse clean of the gel for repeat use and the gel extends the life of the pad even further for greater shop productivity and economy.
For prep work around tight-fitting trim and moldings, locks, and chrome, we recommend using a 3M™ Scuff-It™ Detail Brush (sold separately) with Scuff-It™ Gel to avoid leaving undesirable scuffs on these areas.
The Science of Better Auto Body Work from 3M
We put decades of development into our products for auto care and repair to help save you time and get the most enjoyment and value from the vehicles you own. Our 3M™ Scuff-It™ Paint Prep Gel is another great example of how 3M applies science to life — and makes your life easier when it comes to making your vehicle look its best.
Learn more about 3M Automotive Aftermarket products
(PDF, 69 Mb)