Designed to blend and finish silicon bronze parts for laser brazing
Open web construction resists loading and extends effective service life
Tough, layered, unitized construction can operate clockwise or counterclockwise directions
Resists smearing for cleaner surfaces and less preparation
Minimizes heat build up to lessen impact on heat-sensitive materials
The Scotch-Brite™ EXL PRO Unitized Wheel is a tough nonwoven abrasive wheel designed for laser braze finishing applications on silicon bronze.  This wheel delivers a clean edge and resists smearing, reducing the need for additional clean up and preparation, and resists heat buildup to help deliver a clean and smooth finish.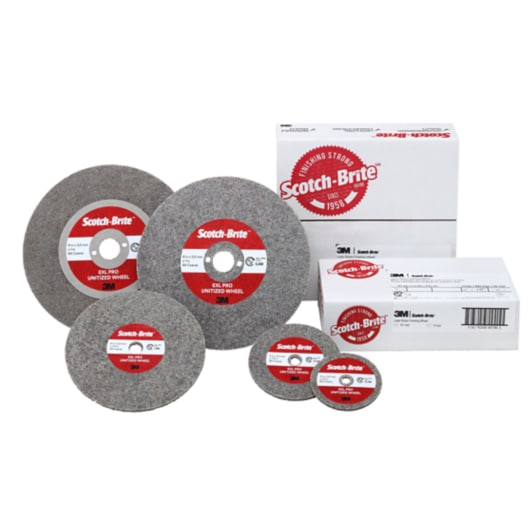 Scotch-Brite™ abrasives allows you to improve surfaces without significantly changing the shape of dimension or the workpiece — and helps prevent undercutting and gouging
The Future of Automotive Production
The Scotch-Brite™ EXL PRO Unitized Wheel
is used primarily to finish seams on metal parts that have been assembled using a laser brazed joint. Laser brazing is a production process whereby parts are attached bonded to each other with a silicon bronze braze then blended to create a more uniform segment. This technique allows parts to flex and withstand the strain of driving without the need for rubber sealants. The removal and finishing of excess metal makes these brazed parts as clean and smooth as the attached surfaces, making the surface look more uniform and futuristic.
The Scotch-Brite™ Advantage
Nonwoven technology makes Scotch-Brite™ industrial abrasives unique. The combination of fiber strands, resin, and abrasive mineral in the Scotch-Brite™ EXL PRO Unitized Wheel forms a thick, open web. The spring-like nature of the fibers responds to contours and effectively removes unwanted burrs, soils, and contaminants while maintaining the geometry of the workpiece, which in turn reduces rework and boosts productivity. Gaps in the web allow swarf to escape, so debris does not clog the mineral. Fibers in the web continually break down with use to reveal fresh mineral for exceptional consistency, superior cut performance, and extremely long service life. Scotch-Brite products may enhance productivity while reducing the need for cleaning chemicals and wire brushes. From aesthetic finishing to weld blending, deburring, and more, Scotch-Brite abrasives work fast and deliver consistent results, part after part.