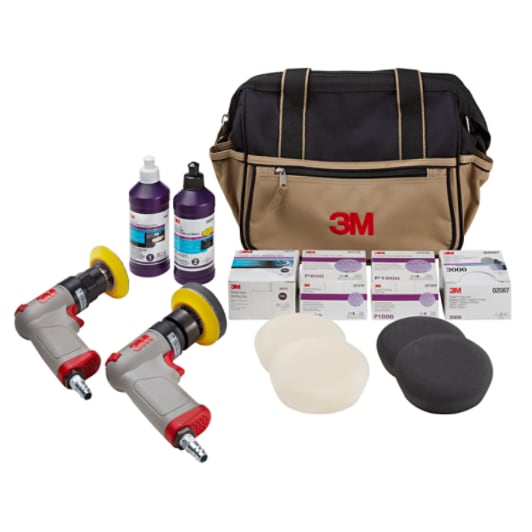 A complete system of tools, light abrasives, compound and polish to restore clarity to headlights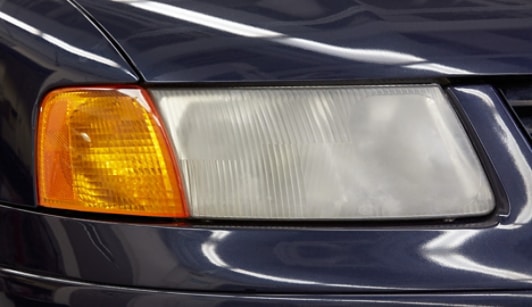 Before: Hazy, cloudy headlight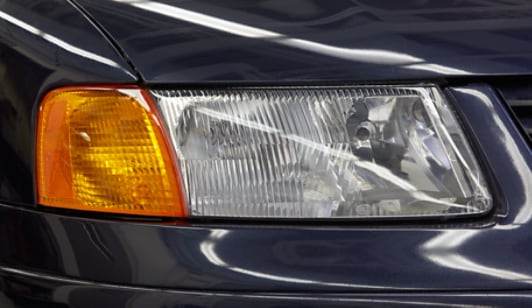 After: Clarity restored
Restore Clarity to Plastic Lenses in 15 Minutes or Less
Incorporating two premium 3M brands, our 3M™ Perfect-It™ Headlight Lens Restoration Kit contains a complete system of tools, light abrasives, compound and polish to restore clarity and remove dullness and haze from headlight and other plastic vehicle lenses. Instead of replacing the lenses, collision repair professionals can refine and eliminate tiny scratches and surface imperfections which cause haze, yellowing and cloudiness, in 15 minutes or less.
The kit uses a simple process involving lightly sanding and polishing the lenses with a series of 3M™ Trizact™ abrasive discs from P800 - P3000, along with 3M™ Perfect-It™ EX Rubbing Compound and 3M™ Perfect-It™ EX Machine Polish. All of the discs feature our Hookit™ hook-and-loop attachment, which works with the included Hookit™ soft interface pad for fast, efficient change-outs without additional tools. The included handheld sanding and polishing tools accommodate all 3" discs and pads for precise sanding and polishing in smaller areas.
3M™ Perfect-It™ Headlight Lens Restoration Kit includes:
3M™ Trizact™ Foam Discs, 3", P3000
3M™ Trizact™ Foam Discs, 3", P1000
3M™ Perfect It™ Foam Compounding Pad, 4"
3M™ Perfect It™ Foam Polishing Pad, 4"
3M™ Hookit Soft Interface Pad, 3"
3M™ Random Orbital Sander, Pistol Grip, 3" 1/8" orbit
3M™ Buffer, Pistol Grip, 3"
3M™ Purple Clean Sanding Hookit™ Disc 3", P800
3M™ Purple Clean Sanding Hookit™ Disc 3", P500
3M™ Perfect It™ EX Rubbing Compound 8oz
3M™ Perfect It™ EX Machine Polish 8oz
The 3M™ Perfect-It™ Brand: 3M's Highest-Quality Solution for Finishing Coated Surfaces
Our Perfect-It brand represents a complete range of solutions designed for busy shops to achieve perfect defect-free finishes, every time, in as little time as possible. Perfect-It brand products have been developed according to a step-by-step system — there's no need to create your own processes to get the best finish. Premium product performance means shorter process times at every step. You use less material, and you have less material to clean up. In all, our Perfect-It brand products let you complete more jobs in the same amount of time. You get better throughput, the finest and most consistent finishes, and increased customer satisfaction with every job.
About Our Trizact™ Abrasives
For more predictable finishes and improved, consistent quality, 3M™ Trizact™ products feature microreplication — small 3-dimensional structures are reproduced and then uniformly distributed over the surface of the abrasive. These patterned, precise mineral structures contain multiple layers of abrasive mineral. As the structures wear, fresh, sharp mineral is exposed. The result is that the abrasive cuts faster, allows for precise finish control, and stays sharper longer — operators can even reduce grade sequences during collision repair, requiring fewer process steps and fewer abrasive products.
Better Science for Better Collision Repair from 3M
3M™ Perfect-It™ Headlight Lens Restoration Kit
(PDF, 288.9 Kb) incorporates two of our premium brands — Trizact™ and Perfect-It™ — to help collision repair professionals work faster, more efficiently and with greater customer satisfaction. Instead of replacing automotive lenses, you can simply remove surface imperfections to restore their clarity. This kit is another way that 3M applies science to the lives of auto repair technicians, consistently improving your efficiency, throughput and value.
A complete system for quickly removing surface defects and yellowing from plastic lenses
Restore headlight clarity in 10 - 15 minutes
Kit contains 3M's premium Trizact™ and Perfect-It™ products
Includes sanding and polishing tools, 3" abrasive discs, rubbing compound and polish
Discs feature Hookit™ attachment for fast, easy change-outs
For use on plastic lenses – headlights, taillights, fog lights, directional lights and more
An excellent alternative to lens replacement