Flexible, cross-shaped sanding pad fits into holes or channels of various sizes
Abrasive is bonded to heavy, X-weight cloth backing for durability during heavy sanding
Durable aluminum oxide abrasive offers a fast cut and long life, and performs well on many surfaces
Durable resin bond resists deterioration from heat, extending the life of the cross pad
Cross pad attaches to a compatible mandrel (sold separately) for use with a rotary tool
3M™ Cross Pad 341D is used for close tolerance polishing of small radii and channels, deburring the ends and insides of tubing, and other special applications. When inserted into a hole or channel, the flexible cross shape conforms to the diameter of the workpiece, making this a versatile accessory for your inside diameter finishing jobs.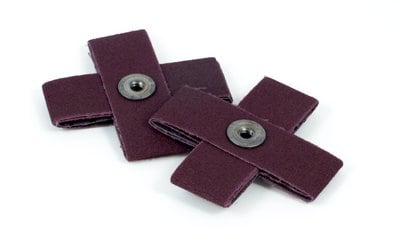 Long life and fast cut
The X-weight cloth backing of our 3M™ Cross Pad 341D supports both grinding and polishing applications. It has a closed coat of aluminum oxide abrasive secured with a heat-resistant resin bond. This cross pad works well where close-tolerance polishing or deburring is needed.
A cross pad attaches to a threaded mandrel (sold separately) that attaches to a rotary tool such as a die grinder or drill. Together, the mandrel and cross pad enable the user to grind or finish the inner contours of various-sized channels. Max RPM depends on the size of the pad.
Aluminum oxide is a popular choice among industrial professionals because of its fast cut-rate and long life. This mineral makes a tough, durable abrasive that self-fractures to expose fresh cutting edges, whereas traditional natural abrasives dull more quickly. Due to its fast cut-rate, hardness, and strength, it is widely used in grinding applications in addition to sanding and finishing applications. Aluminum oxide is suitable for a wide variety of materials in both woodworking and metalworking, including ferrous alloys.
Resin adheres the abrasive particles to the cloth backing, creating a strong, stiff bond that withstands the high heat and pressure of heavy sanding.