Center pin back up pad connects center-hole Scotch-Brite™ Surface Conditioning Discs (sold separately) to power tools
Center pin is specially designed to not interfere with work surfaces, minimizing risk of scratching or gouging
Center pin enables well centered disc attachment, which reduces vibration and increases operator comfort
Use with right angle grinder
The Scotch-Brite™ Disc Pad is an abrasive accessory that helps connect Scotch-Brite™ Surface Conditioning Discs to right angle grinders with ease. The center pin, which centers the disc on the pad, does not extend past the surface of the disc when the disc is installed. Together with the Scotch-Brite™ abrasive disc, this back up pad works well on metals, paints and sealants.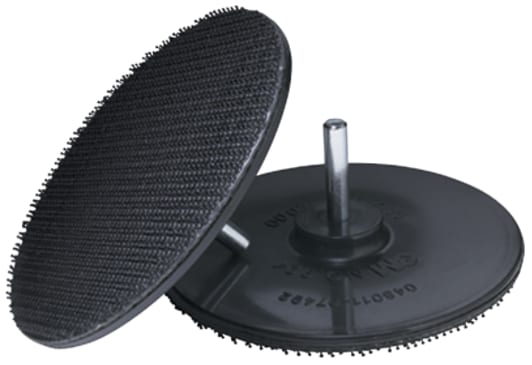 Allows discs to be run on right angle grinders or random orbital sanders
A Great Back Up Pad from Any Angle
Using the Scotch-Brite™ Disc Pad is as simple as threading the pad onto the power tool and then attaching the disc to the pad face. The center pin system contributes to a reduction in hand-arm vibration due to its ability to repeatedly and accurately center the disc on the pad, in comparison to other pads without the center pin feature.
The Scotch-Brite™ Surface Conditioning Discs are made with aluminum oxide or other abrasive minerals and are available in a variety of grades. These discs are commonly used to remove rust, discoloration, and residual sealants. They help clean flat metal parts, prep surfaces after weld seam removal and prep surfaces prior to coating or painting. The reason these discs can prep surfaces so well is because they strike a balance between cut and finish. The abrasive mineral cuts burrs and contaminants while the spongy open web responds to surface imperfections without gouging, marring or damaging the base material. The non-woven, open web, durable construction is designed to resist loading; gaps between fibers allow debris to escape and not clog the disc. Consequently, the service life of the disc increases.
We engineered this comprehensive system of abrasive accessories and discs to make your work swift and efficient. We make engineering innovative abrasive products our top priority, so you can focus on what matters to you: high-quality work.
See more 3M Industrial Products Accessories for Abrasive Products.
(PDF, 20.06 Mb)