The Scotch-Brite™ Clean and Strip Unitized Wheel is a unitized wheel made for aggressive coating removal, cleaning welds, and removing rust, paint and coatings. The layered, durable unitized wheel construction and hard 7 density, with low conformability, make it a great match for edges, when durability is a must.
On right angle grinders and bench tools, Scotch-Brite™ Unitized Wheels produce great results
Remove Unwanted Coatings
Among its features, Scotch-Brite™ Clean and Strip Unitized Wheel has a few abrasive elements that make it uniquely suited for applications like coating removal. First, it has a durable unitized construction that won't yield or deflect to surface irregularities, ensuring an ongoing, aggressive cut. Second, it is made with open web, which helps minimize clogging and loading when removing these coatings.

Peeling back the paint, here's how the Scotch-Brite™ Clean and Strip Unitized Wheel is engineered. To help with your toughest cleaning applications, we intersperse extra coarse (XCS) silicon carbide mineral on synthetic fibers using resin. The coarse grade helps the abrasive cut more aggressively than minerals of a finer grade. While silicon carbide breaks down faster than aluminum oxide, it produces a brighter finish. It cuts sharply to effectively remove scale, rust, surface contaminants, paints, coatings, weld discoloration and splatter.

The unitized construction of the Scotch-Brite™ Clean and Strip Unitized Wheel further lends itself to aggressive cutting action. To create a unitized wheel, we compress layers of open web material together during wheel production. Having multiple layers melded together enhances the abrasive's overall ability to aggressively tackle the substrate.
Mineral Performance Comparison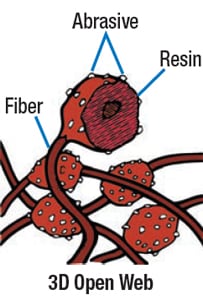 Resist Loading
Finally, the open web helps with the loading that is commonly found in high-production environments and during soft coating removal. Gaps between the nylon fibers permit debris to escape, minimizing loading and premature clogging — which, in turn, prolongs abrasive service life. As the fibers break down, they reveal fresh, sharp mineral, so you get a consistent cut — part after part.

This dense and durable wheel works well with a variety of portable tools, including die grinders, to reach tight or confined areas. When it comes to peeling back the paint, trust our Scotch-Brite™ Clean and Strip Unitized Wheel to help you unearth the layers underneath.

Find More Scotch-Brite™ Abrasives