Scotch-Brite™ Coating Removal Disc features extra coarse (XCS) silicon carbide mineral to effectively remove paint and rust from metal surfaces and welds. Together with the conformable, non-woven material, silicon carbide abrasives remove coatings without gouging, undercutting, or damaging the base material, especially on hard surfaces.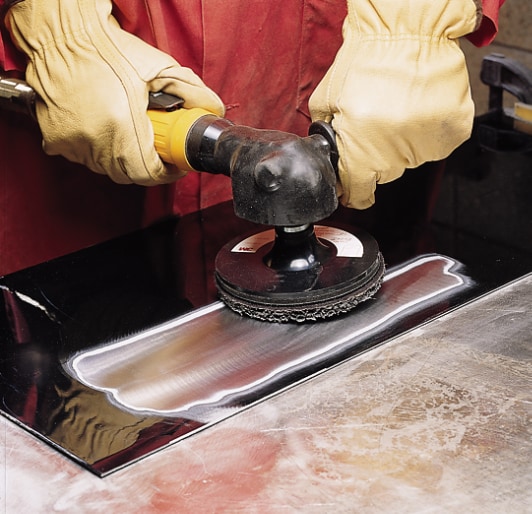 Non-woven material aggressively removes coating while maintaining the geometry of the workpiece
The Layer Beneath: Coating Removal
Our Scotch-Brite™ Coating Removal Disc is a great match for coating removal applications, primarily because the open web responds so well to surface irregularities and contours. The web is springy and responsive, and — when it comes to coating removal — keeping part geometry intact is key. We engineered this disc, because we know that coating removal is about gently unearthing the surface that lies beneath, so you can make it new again.
We incorporated extra coarse (XCS) silicon carbide mineral in the Scotch-Brite™ Coating Removal Disc. Silicon carbide is a synthetic mineral that is very sharp and commonly used for low-pressure applications such as paint prep. While the mineral breaks down faster than aluminum oxide, it produces a brighter finish. As the mineral is extra coarse, it will cut more aggressively than lighter grades, helping peel back the unwanted layer.
Hook and Loop Attachment for Enhanced Productivity
The coating removal disc also has a Hook and Loop backing, which helps expedite tool attachment and enhance productivity. These loops attach securely to hooks on a hook and loop backup pad (sold separately), and the backup pad attaches to the power tool.
The Many Benefits of Scotch-Brite™ Abrasives
Nonwoven technology makes our Scotch-Brite™ industrial abrasives unique. A combination of fiber strands, resin, and abrasive mineral forms a thick, open web. The spring-like nature of the fibers responds to contours and effectively removes unwanted burrs, soils, and contaminants while maintaining the geometry of the workpiece, which in turn reduces rework and boosts productivity. Gaps in the web allow swarf to escape, so debris does not clog the mineral. Fibers in the web continually break down with use to reveal fresh mineral for exceptional consistency, superior cut performance, and extremely long service life. From aesthetic finishing to weld blending, deburring, and more, Scotch-Brite™ abrasives work fast and deliver consistent results, part after part.