Diamond mineral provides aggressive cut and consistent scratch on hard-to-grind materials like stone, glass, ceramic, carbides and composites
Open dot mineral pattern allows swarf and debris to escape, helping to prevent loading
Metal bond anchors micron-graded diamond securely
Quick release attachment
Flexible backing responds to edges and contours
3M™ Flexible Diamond QRS Cloth Disc 6002J was designed to tackle hard-to-grind materials like stone, glass, ceramics, carbides and composites. The open dot, micron-graded diamond and semi-flexible backing provide aggressive cutting action, while remaining responsive to contours.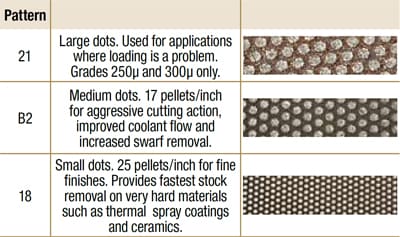 Flexible Diamond QRS Cloth Disc 6002J comes in three patterns: 18, B2 and 21. Here's how to distinguish between the three.
Pattern 18 is a small-dot pattern, designed for finer finishes, grade for grade.
B2 is a medium-dot pattern designed for aggressive cutting action. It has improved coolant flow, given the spacing of the dots.
Pattern 21 is the largest dot pattern and it's ideal for applications where loading is a problem. The gaps in the mineral design allow swarf and debris to escape
Overall, the open dot pattern — whether tight or condensed — delivers aggressive cutting action while reducing loading. Given its dual strength and flexibility, the Flexible Diamond QRS Cloth Disc 6002J is a great abrasive for your hard to grind materials.
Importantly, this diamond abrasive with a QRS (hook and loop) backing for easier attachment. The hook and loop backing allows swift and easy change-out of discs, especially when the task requires multiple discs in a sequence.
Recommended Applications
Glass grinding and edge seaming
Fast leveling on stone inlay, glass, ceramic
Polishing stone, gems, composites, concrete and metal
Removing deep scratches in stone, glass or composites left by previous steps
Hard to grind materials
Learn More About 3M™ Flexible Diamond and Superabrasives.
(PDF, 1.95 Mb)