3M™ Roloc™ attachment enables efficient and secure installation and removal of the disc
Durable aluminum oxide abrasive grains cut fast and perform well on many surfaces
Tough YF-weight, polyester backing supports medium-pressure applications and provides consistent performance
Heat-resistant resin coating bonds abrasive to backing for durability under pressure, heat, and water
Disc can be used in wet or dry applications
3M™ Roloc™ Disc 361F offers a quick-change attachment and provides durability and high performance for grinding, blending, deburring, and finishing on all metals. Fast-cutting aluminum oxide abrasive grains are bonded to the heavyweight cloth backing with durable, heat-resistant resin that supports both wet and dry applications.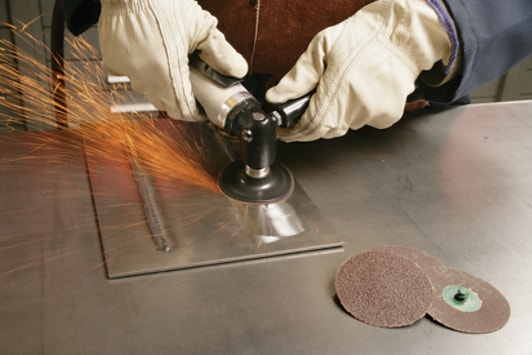 3M™ Roloc™ Disc 361F used for blending and grinding
Benefits of Aluminum Oxide
We used aluminum oxide abrasive, which is a popular choice among industrial professionals because of its fast cut-rate and long life. This mineral makes a tough, durable abrasive that self-fractures to expose fresh cutting edges, whereas traditional natural abrasives dull more quickly. Due to its fast cut-rate, hardness, and strength, it is widely used in grinding applications in addition to sanding and finishing applications. Aluminum oxide is suitable for a wide variety of materials in both woodworking and metalworking, including ferrous alloys.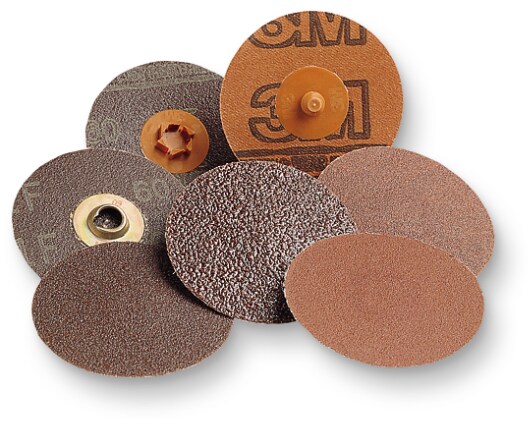 Various types of available installation options
Built for Stock Removal
Heat-resistant resin is a sturdy binding agent that adheres the abrasive to the backing and maintains the stability of the bond even in conditions of high heat or pressure. Cloth-backed discs are known for their durability and flexibility. They're a good first choice when working with metal or for heavy wood stock removal.
Roloc™ System Enables Quick Tool Attachment
3M™ Roloc™ Disc 361F is available for use with the following Roloc attachment systems: TSM, TR, TP and TS. Please select discs with the attachment design made for your system.