Fast-curing urethane chemistry enhances productivity
Unique formula bonds a variety of semi-rigid plastics
Adhesive reinforces two-sided repairs
High-performance adhesive creates a lasting bond
200 mL and 50 ml dual-syringe cartridge systems make application easier
3M™ Semi-Rigid Parts Repair reinforces the backside of many semi-rigid plastic components used in automotive construction, including bumper covers. We recommend our high-performance, two-component urethane adhesive for the following types of plastic: Xenoy, RRIM, GTX, PPO and ABS. Our plastic repair adhesive offers a fast work time to enhance body shop productivity.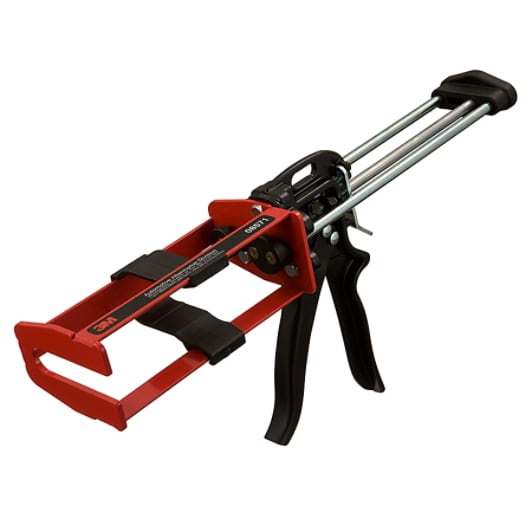 Excellent for use with 3M™ 200mL Manual Applicator Gun, PN 08571
Reinforces Two-Sided Repairs
When the backside of semi-rigid automotive plastics needs repair, 3M™ Semi-Rigid Parts Repair is a specially formulated urethane adhesive that will create a strong, lasting-lasting repair. Our product is an excellent choice for repairs and reinforcement of
two-sided
(PDF, 168 Kb) damage to semi-rigid plastics because of its extremely fast work time and bond strength. We formulated our product to offer strong adhesion over a range of temperatures. Adhesive is available as 200 mL or 50 ml dual-syringe cartridge systems.
Available in Two Strengths
3M™ Semi-Rigid Parts Repair 200 ml products are in two formula strengths. Use Semi-Rigid Parts Repair - 1 (part number 08235) for small repairs and reinforcements such as patching nicks or gouges. Use Semi-Rigid Parts Repair - 3 (part number 08237) for medium-sized repairs and reinforcements.
3M Works to Meet the Needs of the Automotive Market
In working with automotive repair professionals, 3M has identified special needs that technicians encounter to satisfactorily repair plastic. That's why we formulated a unique adhesive that effectively bonds and reinforces semi-rigid plastics commonly used in today's vehicles.