Flexible rubberized coating resists weathering, salt spray, chipping and dust
Fully paintable and texturized to match OEM paint finishes for higher customer satisfaction
Forms electromechanical barrier against rust, limiting comebacks
Like applying a layer of rubber to areas most exposed to weather and wear
Dynatron™ Dyna-Pro® Paintable Rubberized Undercoating forms a durable barrier against weather, chipping, salt spray and rust – almost like applying a layer of rubber to vulnerable auto undercarriages. Fast-drying flexible coating combines easy brush or spray-on application with superior sealing and corrosion resistance, and accepts standard refinish auto paint systems to help match any OEM color.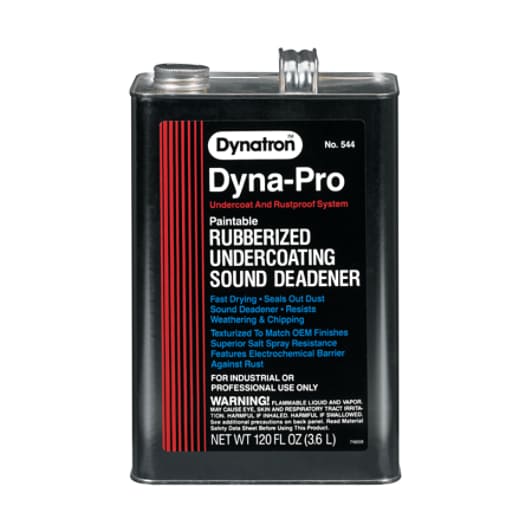 Can be painted with standard refinish paint systems to match any OEM color desired
Goes on Easy, Stays on Tough
A durable, flexible undercoat for vehicles of all types, Dynatron™ Dyna-Pro® Paintable Rubberized Undercoating can be easily applied using a brush or an undercoat spray gun. This rubberized formula resists chipping and creates an electromechanical bond for a tight barrier against rust and other corrosion, critical for automobile undercarriages and areas with bare metal and other components susceptible to weather and salt spray.
High Performance, with Appearance to Match
Dyna-Pro® Paintable Rubberized Undercoating is completely paintable and accepts all standard refinish paint systems, so auto body professionals can achieve an extremely close match to the OEM paint. Black cured coating is also specially textured to match OEM finishes, so you can very closely recreate the existing finish in any color.
Applying Science Where it Matters Most
With its tough, flexible barrier against rust, wear and weather, Dynatron™ Dyna-Pro® Paintable Rubberized Undercoating provides true science-driven performance in auto undercoating. Backed by 3M, this coating delivers benefits where they matter most: beneath the surface in its durability, on the surface as technicians can create a nearly identical match to the OEM paint finish in color and texture, and beyond the surface in customer satisfaction.
Learn more about Automotive Aftermarket products
(PDF, 69 Mb)