3M™ Rubberized Undercoating produces a textured finish which resists chipping, abrasion, exterior rusting and weathering. Provides one-coat build-up with no dripping, running or sagging.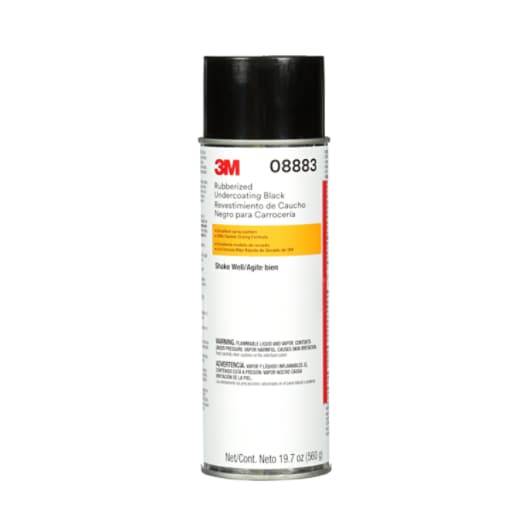 Excellent corrosion and abrasion resistance
Protect the Underside of Your Vehicle from Corrosion
3M™ Rubberized Undercoating helps protect the undercarriage of cars, trucks, vans and recreational vehicles from both corrosion and abrasion. The coating may also be used to protect wheel wells, quarter panels, interior side of fenders, door skins, under side of the hood and trunk lid, floor pans, and more. The rubberized undercoating also helps deaden noise, allowing for a more pleasant and quieter ride. The spray goes on as a textured black finish that resists chipping, abrasion, exterior rusting, and weathering. It provides one-coat build-up with no dripping, running, or sagging. Protecting your vehicle with an application of rubberized undercoating is advised for long-term protection of the undercarriage. Rubberized undercoating creates a protective barrier that seals out grit, grime and moisture that could otherwise corrode the metal components. This extra protection is a low-cost measure that can pay off by potentially extending the service life of a vehicle.
Enjoy a More Pleasant Ride
For a quieter ride, rubberized undercoating helps insulate the vehicle cabin from noise, including road, engine, and wind noises. When soundproofing an automobile, consider the most common source of the noise for your situation. Cars of all makes, models and price ranges will benefit from noise reduction soundproofing.
An Appealing Appearance
The undercoating goes on with a medium to coarse texture that matches OEM standards. It's easy to achieve a consistent coating appearance that looks professional and meets quality standards. The durability of the coating means it will maintain its protective qualities and visual appeal over time.
Exceptional Convenience
The aerosol can offers exceptional convenience for applying the undercoating without any additional investment in equipment.
Directions for Use
Remove all rust scale, oil and grease from surfaces to be coated. Surface must be clean and dry.
May be applied to bare or primed metal.
Note: If applying to composite plastic (SMC/FRP) as a sound deadening material, sand the composite plastic surface with a medium grade abrasive prior to applying under coating, this will increase adhesion.
Shake can for at least 60 seconds after agitator ball moves freely. To assure that the entire contents will be dispensed, always have the dot on the can rim facing downward.
Hold the can 10 - 12 inches from the surface and apply a uniform coat. Allow product to dry 3 - 5 minutes, then apply a second coat. For hard to reach or small areas, use the snorkel tube with spray head.
After use clear valve by inverting can and spray until free of material.
Note: Car trunks and interior areas require special attention to remove the vapors.
See the 3M Coatings Application Guide in the Automotive Aftermarket Products & Systems Catalog for more information
(PDF, 4.7 Mb)