Eliminates time needed for scraping and sanding metal surfaces before topcoat applications
Chemical reaction converts rust permanently
Works on tightly bonded rust and where flash-rusting has occurred
Converts to black, making it easy for technicians to see if additional coat is required
Water-based latex makes for easy application and cleanup
Prevents new rust, protecting integrity of finished surfaces
Mar-Hyde™ One-Step Rust Converter Primer Sealer permanently converts rust into a hard, black primer sealer ready for topcoats. Water-based latex containing rust modifiers is easily applied directly over tightly bonded or flash rust on iron or steel. The solution creates a chemical reaction which converts rust, eliminating extra time for sanding and priming metal surfaces in collision repair.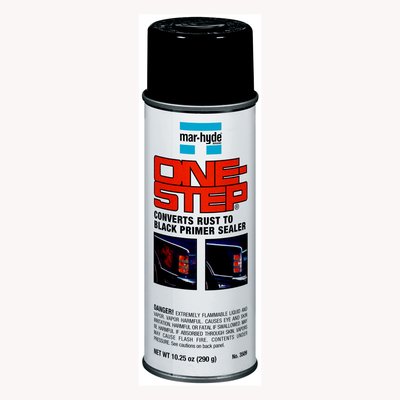 Easy to Apply, Easy to Use
Mar-Hyde™ One-Step Rust Converter Primer Sealer combines powerful rust modifiers with an easy-to-apply water-based latex that brushes on smoothly and cleans up quickly. Shortly after application, the rusted surface changes from white to purple and finally to a stable black coating. A uniform black coating indicates the complete conversion of the rust; if any white streaks or actual rust remain, simply apply an additional coat of rust converter until the surface is completely sealed.
Permanent Rust Conversion
Rust is not simply dissolved or covered up during this process. It is chemically converted into a hard, black primer sealer that readily accepts additional primer or topcoats. Instead of scraping and sanding, technicians can lightly brush the surface and let Mar-Hyde™ One-Step convert rust to primer sealer. It converts tightly bonded rust on iron or steel, and flash-rusting on new degreased or mild steel. It also prevents new rust from forming, ensuring that primers and topcoats will remain bonded for smooth, long-lasting finishes in auto body repair.
Better Science for Better Collision Repair Operations
Mar-Hyde™ One-Step Rust Converter Primer Sealer is a true step forward for collision repair professionals. Its chemical properties transform corrosive rust into a protective sealer, and its latex base makes it easy to apply — great science and great ideas combined to save time and money for auto body paint shops.
Learn more about 3M Automotive Aftermarket products
(PDF, 69 Mb)