Provides extra cut and longer life than SC and PD Surface Conditioning products for heavy duty deburring and finishing
Aggressive yet conformable roll is ideal for edge deburring
Open-web construction resists loading and runs cool, producing consistent finishes
Conformable sheet conditions surfaces while maintaining the geometry of the base material
Reduced loading and heat build-up allow extended operating time and consistent surface conditioning results
Removes surface imperfections, grindlines, mill and other marks
We engineered our Scotch-Brite™ SE Surface Conditioning Roll with extra durability to stand up to both extended wear and sharp edges. It offers consistent, high quality results for edge deburring applications on metals and composites. The roll form enables conversion or customization for unique applications.
Mineral Performance Comparison

Due to its high cut-rate, hardness, strength, and low heat retention, aluminum oxide mineral is widely used in grinding applications in addition to sanding and finishing use. Aluminum oxide is suitable on a wide variety of substrates in both woodworking (PDF, 20.55 Mb) and metalworking (PDF, 73.23 Mb), including ferrous alloys.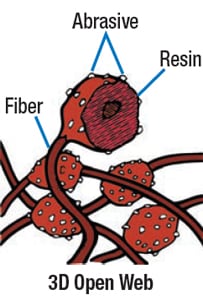 The Scotch-Brite™ Advantage
Non-woven technology makes Scotch-Brite™ industrial abrasives unique. A combination of fiber strands, resin, and abrasive mineral forms a thick, open web. The spring-like nature of the fibers responds to contours and effectively removes unwanted burrs, soils and contaminants while maintaining the geometry of the workpiece, which in turn reduces rework and boosts productivity.

Gaps in the web allow swarf to escape, so debris does not clog the mineral. Fibers in the web continually break down with use to reveal fresh mineral for exceptional consistency, superior cut performance and extremely long service life. From aesthetic finishing to weld blending, deburring and more, Scotch-Brite abrasives work fast and deliver consistent results, part after part.