3M™ Paper Roll 426U is made for use in high-production environments and is ideal for white wood sanding, sealer and solid surface sanding, or whenever a fine finish is critical. Its open coat silicon carbide abrasive mineral and anti-load coating work in tandem to minimize loading, promote a fine finish and preserve abrasive life.

Open coat construction provides aggressive cut and reduced loading
Fast Cutting, Fine Finish
A flexible silicon carbide abrasive, 3M™ Paper Roll 426U is constructed on a light, A-weight paper backing and engineered for top performance. Silicon carbide is fast cutting, delivers a smoother finish than aluminum oxide and it's a versatile, indispensable performer. While it wears faster than aluminum oxide, it produces a superior finish.
Sized to accommodate various sanding blocks, our 3M™ Paper Roll 426U minimizes waste and provides bulk stock for high production environments.
No Loading Zone
An anti-load coating helps prevent dust and abrasive debris from collecting in the grain of the abrasive and the surface of the workpiece.
Abrasives cut better and last longer when dust isn't loading the cutting surface of the abrasives. Loading occurs when sanding swarf (wood or paint dust) collects and clogs the face of the abrasive, which can quickly make the abrasive ineffective. Open coat construction means the abrasive grains are spaced so that dust and debris can collect in the spaces rather than loading the face of the abrasive product.
Recommended Applications
Our 3M™ Paper Roll 426U is easily cut to size for use in hand sanding or orbital sanders for paint prep, corrosion removal or custom woodworking, cabinetry or millwork applications.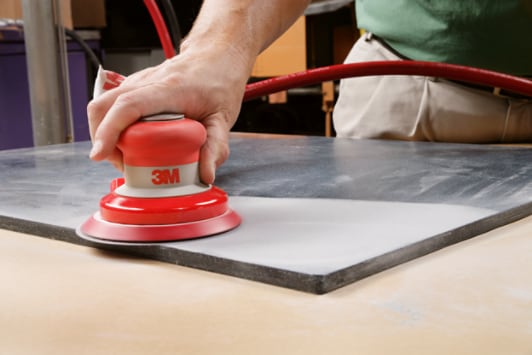 Easily cut to size for use in hand sanding or orbital sanders for paint prep, corrosion removal or custom woodworking, cabinetry or millwork applications