The 3M™ Stikit™ Gold Paper Roll 216U features continuous lengths of A-weight paper, easily cut to size to greatly reduce waste. Aluminum oxide mineral abrasive delivers a sharp cut and uniform finish during collision repair. This roll features Stikit™ adhesive backing, making them exceptionally fast and easy to attach, remove and reuse with power or hand sanding equipment.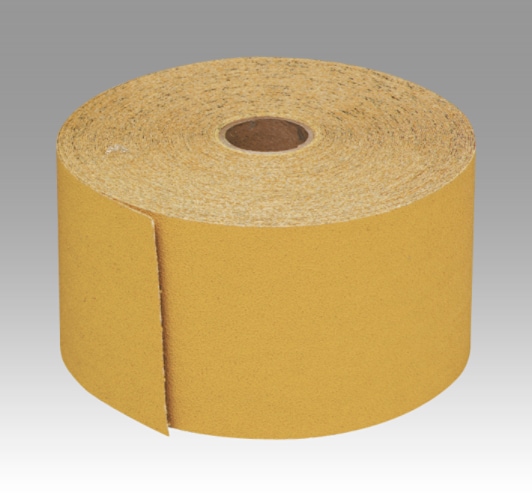 General use abrasive with a load resistant coating
Sharp Abrasive for a Refined finish
With its open coat construction and aluminum oxide mineral abrasive, our 3M™ Stikit™ Gold Paper Roll 216U provides a sharp cut, longer than more aggressive than a comparable closed coat abrasive of the same grade. Light A-weight paper backing and a range of medium-coarse to fine grits make this sheet roll ideal for featheredging and primer sanding. Our Stikit™ Gold Paper Roll 216U is available in a range of widths for collision repair substrates including clear coat, fiberglass, paint, primer, plastic and GMC.
Resists Dust and Debris
Open coat construction means the abrasive grains on our 3M™ Stikit™ Gold Paper Roll 216U less densely spaced on the backing, leaving space between the grains to help evacuate sanding dust and other debris. This reduces clogging the cutting edge of the grains. The load-resistant coating on the abrasive grains allows the abrasive to continue cutting even when sanding paints and other materials that would otherwise clog the surface and hinder sanding ability. All of this adds up to increased productivity and reduced material consumption.
Paint Prep, Gelcoat, Aluminum and Carbon Steel Applications
Paint Prep: Our 3M™ Stikit™ Gold Paper Disc 216U is a good choice for stock removal and finishing on plastic parts and primer.
Gelcoat: 3M™ Stikit™ Gold Paper Disc 216U is well-suited for stock removal, medium stock removal and finishing on gelcoat.
Metal Fabrication Applications: Good for finishing on aluminum and carbon steel.
3M Science. Applied to Designing Tools to Enhance Quality and Productivity.
3M™ Gold Abrasives are the standard that industry has turned to for quality, performance and durability for over 25 years. Gold Abrasives are engineered with high quality minerals and resins to deliver longer-lasting abrasives that cut through a variety of surfaces - including paint, primer, fiberglass and metals. 3M Gold Abrasives produce uniform, consistent finishes. When job quality and productivity matter most, turn to the abrasives that industry has relied on year after year.
See More 3M Industrial Products for Woodworking
(PDF, 20.55 Mb)