3M™ PSA Paper Roll 431Q is a great match for finishing and polishing on paint and metal, and it can help with coating and corrosion removal. Its closed coat construction and sharp silicon carbide mineral render it a good abrasive for producing the desired finish results.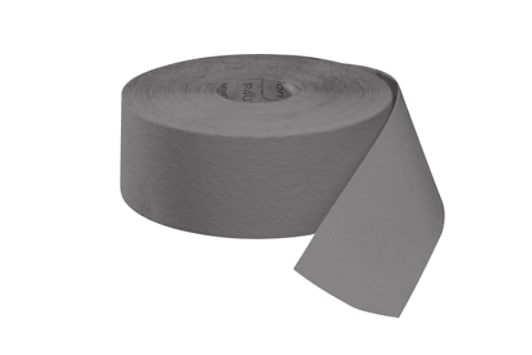 Silicon carbide mineral produces a smoother finish than aluminum oxide
Essential Ingredients
3M™ PSA Paper Roll 431Q features fast cutting silicon carbide on a strong C-weight, waterproof paper backing to provide superior finishing for both wet and dry applications on a variety of substrates, including paint, primer, gel coat, metal, and wood. We engineer this abrasive by adhering silicon carbide to a C-weight backing using a resin bond. Silicon carbide is a very hard mineral characterized by sharp points that fracture easily, resulting in freshly exposed sharp edges that cut fast and produce a smooth, professional-looking finish. While the mineral has a shorter life than aluminum oxide, it produces a superior finish. Our 3M™ PSA Paper Roll 431Q is available in a variety of grades, so operators can choose the right grade for their unique project.
Ready to Wash
Featuring a closed coat construction, mineral on 3M™ PSA Paper Roll 431Q covers 100% of the backing. Closed coat abrasives are good for final finishing and polishing, as they produce better finishes than open coat abrasives. While some operators may be concerned about the anti-loading properties of a closed coat abrasive, this paper can be run wet or dry. Using a lubricant like water will help wash away unwanted swarf and debris and minimize heat generated during the sanding process.
The C-weight backing is one of the heavier backings among paper-backed sheets. It's tough, durable and able to withstand more abuse than lighter weight papers. At the same time, its lighter weight than cloth and its smoother surface provides a more uniform platform for fine grade mineral adhesion than the textured surface of cloth backings. Paper backing is preferable for lighter applications such as finishing and paint prep. These applications tend to produce a significant amount of dust, clogging the abrasive points and creating an inferior work environment. Again, the effects can be minimized by sanding with water to rinse dust away from the workpiece and the abrasive surface.
Ease of Use
Made with pressure sensitive adhesive (PSA), this abrasive offers a high-strength adhesive attachment system. Attaching 3M™ PSA Paper Roll 431Q to your hand sanding block is as simple as pressing on a sticker. The abrasive paper can be peeled off of the chosen holder just as easily, leaving a clean surface for your next abrasive. Our versatile PSA Paper Roll 431Q comes in a variety of forms, from sheets to discs to rolls. Spanning industries and applications, this fast-cutting paper abrasive — with its easy PSA attachment and ability to be run wet or dry — make it a good abrasive to have on hand.
Abrasive Sheet Selection Guide: Hand Finishing
(PDF, 123.63 Kb)