The Scotch-Brite™ HS Blend and Finish Roll aggressively tackles weld burns and refinement, deburring and rust removal – leaving a consistent satin finish on the workpiece. The result is a beautifully blended, burr-free finish.

For best results, use the entire 3M™ Metalworking System
Conformable, Durable Blending and Burr Removal
Made with aluminum oxide mineral, this high-strength open web roll is tear resistant with excellent durability and cut, so you get the job done faster and are left with a great finish. If you are using wire abrasives, but dislike their tendency to splinter and fray, choose our Blend and Finish Roll. With up to 30 linear feet of HS material per roll, operators may be able to reduce the number of replacement orders. Moreover, the roll comes in both 4" and 8" widths. Operators can choose the right width based on workpiece surface area — be it broad or narrow.
Fast Cut and Long Life
Aluminum oxide is a popular choice among industrial professionals due to its cut-rate and long life. This mineral is a tough, durable abrasive that self-fractures to expose fresh cutting edges in use, whereas traditional abrasives, such as garnet, quickly wear down with use. Its high cut-rate, hardness, strength, and low heat retention all combine to make aluminum oxide mineral a good choice in grinding applications. Aluminum oxide is suitable on a wide variety of substrates in both woodworking and metalworking, including ferrous alloys.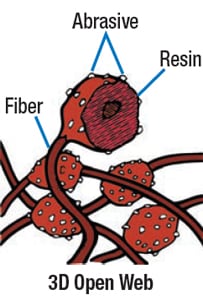 The Scotch-Brite™ Advantage
Scotch-Brite™ industrial abrasives are unique surface conditioning products with abrasives incorporated into non-woven nylon or synthetic fibers. Combining abrasives with the fibers creates an abrasive system that delivers consistent results for the life of the product. The open web material runs cool and is load resistant, which keeps the abrasive minerals cutting at high performance by limiting clogging of the fibers. Fibers in the web continually break down with use to reveal fresh mineral for exceptional consistency, superior cut performance, and extremely long service life. From aesthetic finishing to weld blending, deburring, and more, Scotch-Brite abrasives work fast and deliver consistent results, part after part.