Suitable for metal, wood finishes, plastic, fiberglass, primer and paints
Versatile sheet may be cut and shaped for your specific application
A small amount of talc, incorporated in the abrasive, helps deliver a good polish
Soft, non-woven web is ideal for applying compounds and polishes to create a high gloss finish
Spongy web offers a high degree of conformability to finish irregular surfaces and access hard-to-reach areas
Scotch-Brite™ High Gloss Sheet is a soft, springy, non-woven sheet that offers a high degree of conformability for final-step high-gloss finishing. Its pliable, open web material is an ideal medium for use with compounds to help generate a uniform finish.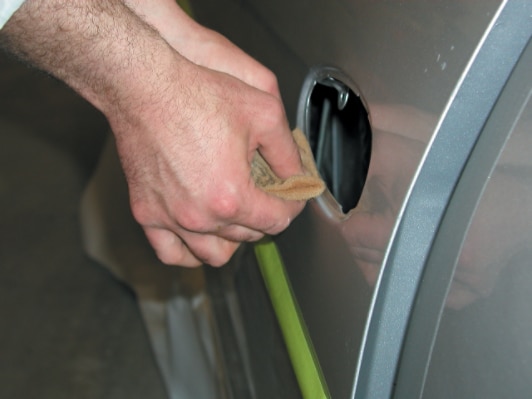 Finish irregular surfaces and access hard-to-reach areas
Pair It with Polishes and Compounds
Whether a motorcycle fender, a wood cabinet or a car door, operators across industries tend to desire similar results: polished, gleaming workpieces. One of the most common ways to achieve shine is using a sanding sheet in conjunction with a compound.
The non-woven nylon fibers on our Scotch-Brite™ High Gloss Sheet hold polishes and compounds and distribute them evenly as the surface is worked. A small amount of talc is incorporated into the non-woven fibers to enhance its polishing capability. As the fibers wear, fresh talc is exposed to provide a consistent finish throughout the life of the product. In woodworking, this material can be used with polish to create a high gloss finish in topcoat rubbing applications. It is a good match for softwoods and hardwoods and may be used for applications like panel processing, custom woodworking and millwork, cabinetry and furniture.
The versatile sheet may be cut and shaped to meet unique project needs, and it can be used with many abrasive tools. It may be cut for hand sanding, as well as used with oscillating machines or dual pad rubbing machines.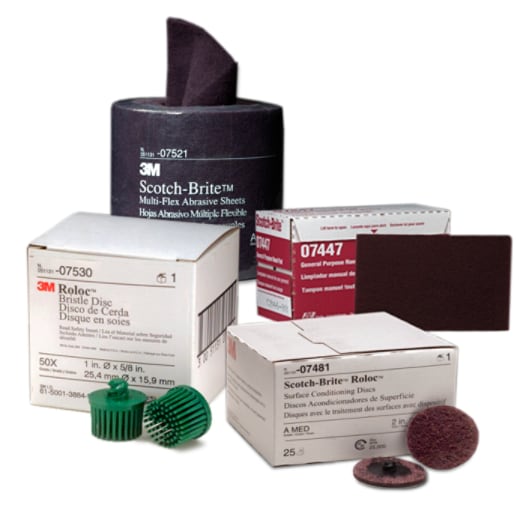 Scotch-Brite™ products make tough jobs easier
The Many Benefits of Open Web Abrasives
Non-woven technology makes our Scotch-Brite™ industrial abrasives unique. A combination of fiber strands, resin, and abrasive mineral forms a thick, open web — the Scotch-Brite™ material. The spring-like nature of the fibers responds to contours and effectively removes unwanted burrs, soils, and contaminants while maintaining the geometry of the workpiece, which in turn reduces rework and boosts productivity. Gaps in the web allow swarf to escape, so debris does not clog the mineral.
Fibers in the web continually break down with use to reveal fresh mineral for exceptional consistency, superior cut performance, and extremely long service life. From aesthetic finishing to weld blending, deburring, and more, Scotch-Brite™ abrasives work fast and deliver consistent results, part after part.