The 3M™ Microfinishing Film Sheet 468L is designed to help you get the finest finish possible, and can be easily cut to fit any orbital platen sanders. It features micron-graded silicon carbide abrasive bonded to a durable polyester film backing to produce a fast cut-rate and uniform finish on wood, composites, plastic, fiberglass and metal.
Features micron-graded silicon carbide abrasive, polyester film backing
Flexible Design
This sheet is manufactured with an open coat surface to increase efficiency and product life by minimizing loading. The abrasive is resin-bonded and supports disc flexibility without sacrificing durability and reliable performance under high heat and pressure. To complement the effective abrasive action, the polyester film backing flexes to help achieve a consistent finish over contours and offers greater tear-resistance than comparable paper products, making it ideal for high-production environments. Designed for use with a variety of tools including orbital and random orbital platen sanders, this sheet comes in a range of micron grades for complete multi-step sanding and finishing.
Silicon Carbide Abrasive
The 3M™ Microfinishing Film Sheet 468L features precision, micron-graded silicon carbide, which is a popular choice among industrial professionals because of its fast cut-rate and smooth finish. Silicon carbide is a synthetic mineral that is very sharp and commonly used for low-pressure applications such as paint prep. While it breaks down faster than aluminum oxide, it produces a brighter finish.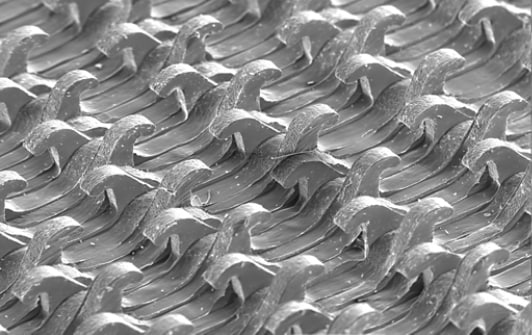 Available hook and loop backing makes for quick, easy sheet changeouts
Open Coat Construction
Sanding sheets cut better and last longer when dust isn't clogging the cutting surface of the abrasives. Open coat construction means the abrasive grains are placed with space between them to help evacuate sawdust and other sanding debris and avoid clogging the cutting edge of the grains. This also allows the disc to continue cutting even when sanding softwoods, paints, and other materials that would, otherwise, clog the disc and hinder sanding ability. Additionally, the open coat feature provides a more aggressive cut than a comparable closed coat abrasive of the same grade. All of this adds up to increased productivity and reduced material consumption.
Easy Attachment
Our 3M™ Microfinishing Film Sheet can be cut to fit various power tools and pads. This sheet is also available with a range of attachment options, including PSA, hook-and-loop and plain backing. The pressure sensitive adhesive (PSA) provides easy attachment, holds the sheet securely in place during use, and removes cleanly from the sander. Hook-and-loop backing allows for quick and easy removal without interference from floating debris or dust, while plain backing can be used by hand or attached to various machines and hand tools.