3M™ Trizact™ Performance Sandpaper combines a fast cut and extremely consistent, refined finish for your auto body projects. It features Trizact™ structured abrasive – its microscopic three-dimensional mineral structures resemble pyramids. This patterned, precise surface on a lightweight foam removes very fine sand scratches and leaves metal and painted metal surfaces ready for polishing.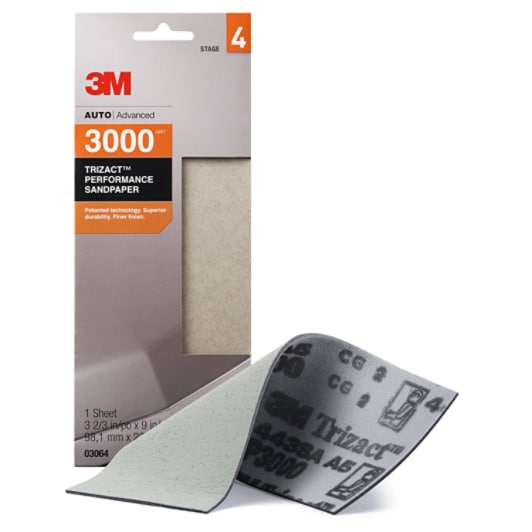 Simplifies surface maintenance, easy touch-ups — even on high gloss finishes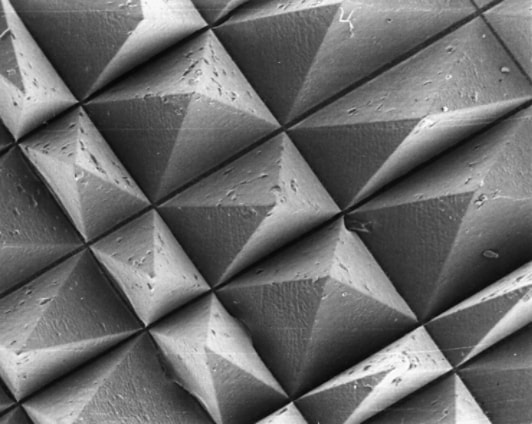 Simplifies surface maintenance, easy touch-ups — even on high gloss finishes
A High-Performance Sandpaper for Refined Auto Body Finishes
Featuring our Trizact™ technology for uniform and consistent finishes, our 3M™ Trizact™ Performance Sandpaper makes refined, professional-grade sanding faster and easier for auto body jobs large and small. This durable sandpaper features Trizact™ mineral abrasive — tiny, sharp structures resembling pyramids which are arranged uniformly across the surface. These structures create a fast, even cut that removes very fine sand scratches from metal surfaces. Lightweight foam backing makes it flexible and conformable, which is ideal for hand sanding, and also attaches easily to sanding blocks and other hand sanding tools.
With extremely fine abrasive grit, Trizact™ Performance Sandpaper is ideal during the Finish stage of our 3M™ Body Repair System. It helps reduce the time and materials needed for polishing, and can even eliminate the need for compounding. Use for wet sanding, which helps minimize loading and controls dust for maximum sheet life
About Our Trizact™ Abrasives
For more predictable finishes and improved, consistent quality, 3M™ Trizact™ products feature microreplication — small 3-dimensional structures are reproduced and then uniformly distributed over the surface of the abrasive. These patterned, precise mineral structures contain multiple layers of abrasive mineral. As the structures wear, fresh, sharp mineral is exposed. The result is that the abrasive cuts faster, allows for precise finish control, and stays sharper longer, meaning you use fewer sandpaper sheets and save money as well as time.
About the 3M™ Body Repair System
Even a small repair can seem complex at first. So 3M's Body Repair System simplifies the entire automotive body repair process by dividing it into four stages:
Stage 1 — Prepare.
This stage includes pulling dents, removal of paint and rust and efficient, effective masking of the area.
Stage 2 — Fill.
This stage involves patching holes with reinforced filler and smoothing and shaping filler before painting.
Stage 3 — Paint.
This stage includes painting the area and blending and smoothing primer and paint.
Stage 4 — Finish.
The final stage for showroom-grade results: removing small defects, sealing and polishing clear coats and other painted surfaces.
3M supplies premium products such as abrasives, tapes, body fillers and tools for every stage. This system helps you work easily, efficiently and successfully across the entire body repair process.
Recommended Applications
Use during the Finish step of the 3M™ Body Repair System
Removing fine sand scratches up to P3000 from metal and painted metal surfaces
Ideal for final sanding before polishing
Use while wet to minimize clogging, maximize sheet life and control dust
Better Science for Better Sanding from 3M
Our 3M™ Trizact™ Performance Sandpaper is a key part of a complete system for successful auto body work. With its combination of lightweight, conformable foam and tough, precise abrasive pattern, it is also an excellent example of how 3M brings out the best in any of your auto care projects: Science. Applied to Life.TM