3M™ Hookit™ Clean Sanding Sheet 236U offers superior dust control, aggressive cut, and long life on a premium aluminum oxide sheet with a durable edge and convenient 3M™ Hookit™ attachment. It features a proprietary multi-hole Clean Sanding pattern that evacuates dust better than traditional sheet products — dramatically increasing sheet life.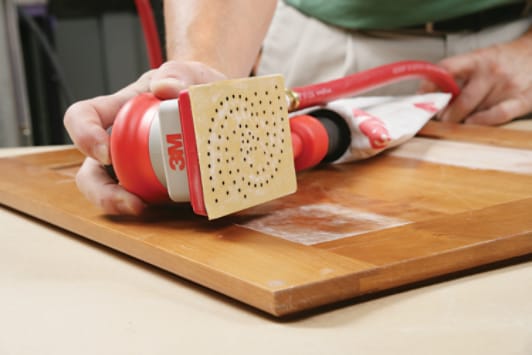 3M™ Hookit™ Clean Sanding Sheet 236U is well suited for high production sanding operations as well as general purpose applications.
Choose the 3M™ Hookit™ Clean Sanding Sheet 236U for blending and finishing on aluminum and carbon steel, and for woodworking applications such as heavy and medium stock removal and finishing on hardwoods, softwoods, and composites. This sheet also works well on primer, paint, sealers, topcoats, fiberglass, and plastics. Designed for use with a rectangular orbital sander, the strong C-weight paper backing resists tearing and edgewear during aggressive sanding, and the sheet is resin-bonded for heat-resistance, further increasing life and cut. This sheet also features an open coat and a load-resistant coating to enhance dust management and cut-rate.
To achieve maximum dust extraction, use this sheet with our 3M™ Clean Sanding Hookit™ Pad and our 3 x 4 inch (75 x 100mm) 3M™ Orbital Sander with vacuum (both sold separately).
Sandpaper cuts better and last longer when dust isn't loading the cutting surface of the abrasives. Reducing dust is easier than ever with 3M Clean Sanding products. The 3M proprietary multi-hole pattern on Clean Sanding products evacuates dust at a higher rate than traditional dust free patterns. The multi-hole pattern achieves an ideal balance between the abrasive surface and dust extraction holes to maximize cut and optimize the life of the product. This hole design doesn't even require alignment of holes with the pad, making sheet changes quick and simple. Suction via a vacuum system is drawn through the holes to collect dust from the air and workpiece, for improved working conditions, sheet performance, and overall productivity.
Our 3M™ Hookit™ Clean Sanding Sheet 236U also features a load-resistant coating that allows the sheet to continue cutting even when sanding softwoods, paints, and other materials that would, otherwise, clog the surface of the sheet and hinder sanding ability. Loading is further reduced by an open coat, which means the abrasive grains are spaced slightly apart so that dust can escape rather than obstructing the cutting edge of the grains, thereby optimizing cut-rate and sheet life.
Sanding products come in a variety of forms to fit various power tools and disc pads. 3M Clean Sanding products come with a 3M™ Hookit™ attachment. A Hookit™ sheet conveniently and firmly attaches to a hook-and-loop backup pad (sold separately) on an orbital sander. 3M™ Hookit™ sheets are quick and easy to change when switching from one grade to another, and can be reused again and again for the extent of the sheet life (whereas adhesive-backed sheets are typically discarded after one use because the adhesive backing will not re-adhere a second time).
Aluminum oxide is a popular choice among industrial professionals because of its fast cut-rate and long life. This mineral makes a tough, durable abrasive that self-fractures to expose fresh cutting edges, whereas traditional natural abrasives dull more quickly. Due to its fast cut-rate, hardness, and strength, it is widely used in grinding applications in addition to sanding and finishing applications. Aluminum oxide is suitable for a wide variety of materials in both woodworking and metalworking, including ferrous alloys.