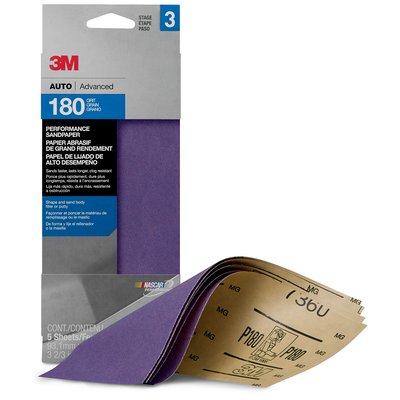 Strips paint to metal and shapes and sands body filler
A Premium Performance Sandpaper for Auto Body Work
Designed specifically for hand sanding, our 3M™ Performance Sandpaper delivers the performance of our aluminum oxide/ceramic blend abrasive — built for jobs requiring an aggressive cut, where sheets must last a long time without clogging or wearing down. These sheets are built on light A-weight paper that attaches quickly and easily to sanding blocks.
Hard, Tough and Sharp
3M's fastest cutting, longest lasting abrasive saves labor costs and improves the quality of your collision repair jobs. Aluminum oxide is popular among collision repair professionals because of its fast cut-rate and long life. This natural mineral makes a tough, durable abrasive that self-fractures to expose fresh cutting edges, keeping it sharper longer than traditional natural abrasives. Aluminum oxide is suitable for a wide variety of metalworking materials including ferrous alloys. It is blended with a ceramic designed to enhance the toughness and hardness of the grain. Ceramic abrasives are engineered to cut fast and handle intense heat and stress applications. Ceramic/aluminum oxide blends are excellent for moderate to heavy stock removal common in auto body repair.
Hand Sanding Where it Matters Most
3M™ Performance Sandpaper is available in coarse 180 grit sheets for shaping and sanding body filler, as well as refining 80 grit scratches in the filler. Once the 180 grit sandpaper scratches are filled with glaze or spot putty, you can use Performance Sandpaper in 320 grit to shape and sand prior to priming. This sandpaper is ideal for use during Step 3 of the 3M™ Body Repair System.
About the 3M™ Body Repair System
Even a small repair can seem complex at first. So 3M's
Body Repair System
simplifies the entire automotive body repair process by dividing it into four stages:
Stage 1 — Prepare. This stage includes pulling dents, removal of paint and rust and efficient, effective masking of the area.
Stage 2 — Fill. This stage involves patching holes with reinforced filler and smoothing and shaping filler before painting.
Stage 3 — Paint. This stage includes painting the area and blending and smoothing primer and paint.
Stage 4 — Finish. The final stage for showroom-grade results: removing small defects, sealing and polishing clear coats and other painted surfaces.
3M supplies premium products such as abrasives, tapes, body fillers and tools for every stage. This system helps you work easily, efficiently and successfully across the entire body repair process.
Recommended Applications
Shaping of plastic filler
Putty shaping
Putty sanding
Filler sanding
Featheredging
Smoothing putty before priming
Better Science for Better Sanding from 3M
Our 3M™ Performance Sandpaper is a key part of a complete system for successful auto body work. With its combination of light paper and tough blended grain, it is also an excellent example of how 3M brings out the best in any of your auto care projects: Science. Applied to Life.TM
Ideal for auto repair jobs requiring hand sanding
Aluminum oxide abrasive offers a fast cut, long life and professional results
Ceramic blend makes abrasive tougher and resists clogging for longer sheet life
Durable paper backing resists rips and tears in heavy sanding projects
Use in Stages 1 and 2 of the 3M™ Body Repair System