The 3M™ Trizact™ Hookit™ Foam Abrasive Sheet 443SA features a foam backing that provides support and conformability for removing fine grade (P1500 – P2500) swirl marks and scratches – ideal for painted surfaces where buffing is difficult. Microreplicated 3-D mineral abrasive structures are distributed uniformly across the surface and wear evenly for consistent finishes and longer sheet life.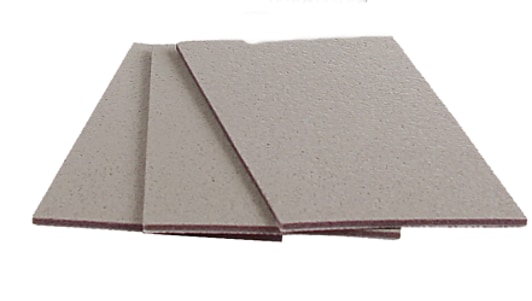 Foam backing provides support for removing sand scratches
Advanced Abrasives for Collision Repair
For use during the critical stage before compounding, our 3M™ Trizact™ Hookit™ Abrasive Sheet is excellent for removing fine grade scratches and swirl marks that are not easily removed by buffing. Sheets are backed by sturdy but flexible foam that provides support, conformability and consistent contact with the surface for fine grade sand scratches up to P2500. These sheets are ideal for creating refined finishes with less rework associated with dieback and visible scratches in painted surfaces. In specific situations, operators can even eliminate the compounding step in collision repair, saving extra time and material costs. Foam-backed hand sanding sheets feature our Trizact™ abrasives, built to stay sharper longer to reduce material costs. Trizact™ Hookit™ abrasive sheets also feature our Hookit™ system for fast, efficient changeouts during the paint finishing process.

Use Trizact™ Hookit™ Abrasive Sheet for wet or dry sanding to remove P1500-P2500 grade sand scratches. For best results, use with our 3M™ Hookit™ Foam Hand Sanding Pad PN 05612.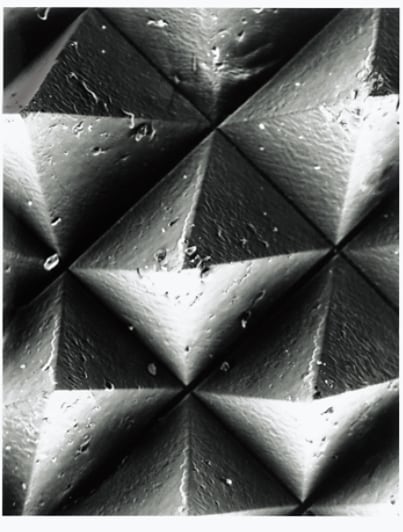 Small 3-dimensional structures are uniformly distributed over the surface of the abrasive
About Our Trizact™ Abrasives
For more predictable finishes and improved, consistent quality, 3M™ Trizact™ abrasive sheets feature microreplication (PDF, 6.8 Mb) — small 3-dimensional structures are reproduced and then uniformly distributed over the surface of the abrasive. These patterned, precise mineral structures contain multiple layers of abrasive mineral. As the structures wear, fresh, sharp mineral is exposed. The result is that the abrasive cuts faster, allows for precise finish control, and stays sharper longer — operators can even reduce grade sequences during collision repair, requiring fewer process steps and fewer abrasive products.

About Our Hookit™ Attachment System
The Hookit™ hook-and-loop feature makes sheet attachment, removal and re-attachment clean and easy, and facilitates use and re-use of the sheets for the extent of the abrasive life. Hookit™ hand sanding pads have J-shaped hooks of the type most commonly used in everyday hook-and-loop applications. These hooks instantly grip the brushed nylon loops on our Hookit™ abrasives. It's simple: just slap the sheet on and start sanding. Sheets remove just as cleanly and easily, and can be re-used again and again for the extent of the abrasive life. The Hookit™ system is designed for work spaces where adhesive backed discs may become contaminated by dust, dirt, or flying debris.

The Science of Better Sanding from 3M™
3M™ has put the latest science into each step toward achieving precision finishes in collision repair. Our 3M™ Trizact™ Hookit™ Abrasive Sheet is a terrific example. From its foam backing to its time-saving hook-and-loop attachment to its microreplicated abrasive, it is ideal removing fine grade scratches by hand before compounding — a clean, scratch-free surface, in less time .