Fast cleaning formula instantly removes difficult black streaks
Easy-to-use spray-on cleaner
Wipes off effortlessly
No need for compounds or other harmful abrasives on boat surfaces
Tough, yet safe for use on fiberglass, metal and paint
Our 3M™ Marine Black Streak Remover is just what you need for removing stubborn black streaks from your boat caused by water runoff, bumpers, shoe treads and more. This cleaner is specially formulated to instantly remove these difficult black streaks with minimal time and effort. Though it's tough on streaks, the remover is safe for fiberglass, metal and painted surfaces.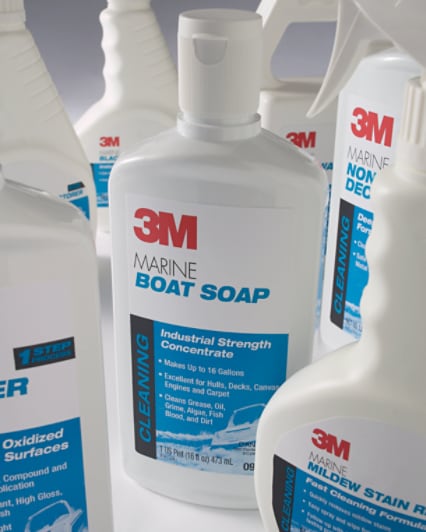 3M Marine has a full line of boat wax and maintenance products
Remove Hard Streaks without the Hard Work
As a boat owner, you know about those black streaks that form down the sides of your boat — and we do, too. We created our 3M™ Marine Black Streak Remover specifically for removing these tough streaks: dirt, leaves and other materials that settle on flat surfaces can mix with water, and leave black marks during runoff that can be almost impossible to remove. Instead of compounds, buckets, soap, abrasive scrubbers and lots of hard work, simply spray the cleaner on and wipe it off. This abrasive-free streak remover is designed to instantly wipe out black streaks with a minimum of time and effort.
While our 3M™ Marine Black Streak Remover is tough on black streaks, it is also designed to be safe for use on nearly all marine surfaces including fiberglass, metal and painted surfaces. So you can remove the streaks, without damaging the actual surface of your boat.
Better Science for Better Boating from 3M
When a single 500 mL (16.9 oz.) bottle can replace all of the compounds and scrubbers you use to remove black streaks from your boat, that's science. In fact, our 3M™ Marine Black Streak Remover benefits from decades of development in cleaning and fabric protection including our trusted
Scotchgard™
and
Scotch-Brite™
brands. It's a terrific example of how 3M applies science to the lives of boating enthusiasts for better, cleaner boating.
Find More 3M Marine and Boat Care Products
(PDF, 8.93 Mb)